Vietnam has reiterated its commitment to the strategic goals set by the Beijing Plan of Actions on empowering women at the 59th session of the Commission on the Status of Women (CSW59) which opened in New York on March 9.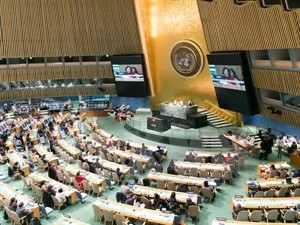 (Photo: VNA)
In a speech at the session, the head of Vietnam's delegation, Minister of Labour, Invalids and Social Affairs Pham Thi Hai Chuyen spotlighted the progress the country has made in promoting women's rights.
The active engagement of the entire political system in the field has produced encouragement results, from policy making to enforcement, the minister said.
She reported that the Vietnamese National Assembly has adopted laws on gender equality and the prevention and fight against domestic violence, while the Government has built and effectively carried out several strategies, policies and programmes of actions on the advancement of women and gender equality which were designed to suit each period since 2007 until 2020.
As a result, the status and role of Vietnamese women in all aspects of political, social and economic life have been enhanced, the minister said, noting that almost no gender gap exists in the access to education at all levels, with women even outnumbering men in tertiary education in some fields. Women make up 48.5 percent of Vietnam's workforce and more than 20 percent of business management staff.
In the political field, two women were elected to the Party's highest leadership body – the Politburo, two have served as Vice Chairwoman of the National Assembly and one as Vice State President.
Minister Pham Thi Hai Chuyen noted that Vietnam was ranked third in the Association of Southeast Asian Nations (ASEAN) and 47th among 187 countries in terms of gender equality enforcement.
The minister said the achievements can be attributed to awareness consensus in the political system, adding that Vietnam is aware economic growth should go hand in hand with social progress, hunger elimination and poverty reduction. The country has paid special attention to vulnerable groups, particularly women, thus incorporating gender equality in programmes and initiatives at all levels.
At the same time, certain problems still exist in the country, requiring further efforts to address them, the minister said, citing the deep-rooted social prejudice against women, violence at different levels against women and girls and shortage in both financial and human resources for gender equality promotion work as some of the challenges, among others.
Vietnam commits itself to intensifying the enforcement of laws and policies on gender equality and women empowerment, promoting social progress, hunger elimination and poverty reduction alongside economic growth, and better ensuring the rights of women and girls through the synchronous enforcement of strategic measures and international cooperation for the common goal.
Minister Pham Thi Hai Chuyen is scheduled to attend both high-level meetings and sidelines events on women labourers, as well as hold bilateral meetings with the leaders of UN Women and UNFPA and the Minister of Gender Equality and Family of the Republic of Korea.