Da Nang took the top ranking in the 2008 Vietnam Provincial Competitiveness Index (PCI), which was released Thursday in Hanoi.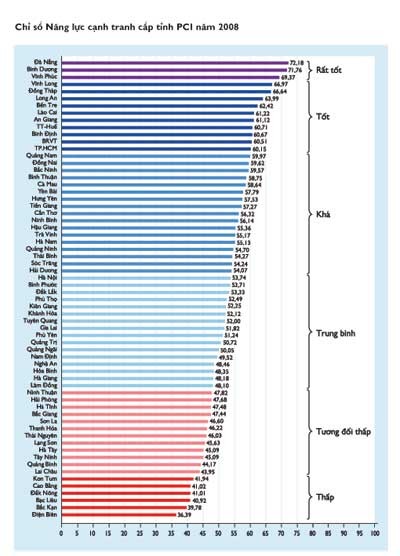 This year's PCI ranking
The southern province of Binh Duong, which was the top PCI province for the past three years ahead of Da Nang, came second this year. Da Nang on the central coast had ranked second in previous years.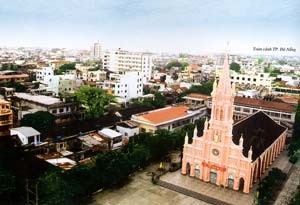 A view of Da Nang City
Dien Bien was at the bottom, where Dak Nong was last year. Above Dien Bien were Bac Kan and Bac Lieu, respectively. Dak Nong ranked fourth from the bottom this year.
The PCI measures economic governance based on each province's business environment for private-sector development.
It is new that this year's report made comparisons for improvements of each province between 2006 and this year.
This year's report also introduces the PCI Infrastructure Index, which assesses provincial infrastructure quality.
Developed by the U.S. Agency for International Development's Vietnam Competitiveness Initiative (VNCI) and the Vietnam Chamber of Commerce and Industry (VCCI), the PCI is now in its fourth year.
The 2008 PCI report was released in a ceremony chaired by U.S. Ambassador Michael Michalak and VCCI Chairman Vu Tien Loc.
This edition reflects the input of more than 7,820 Vietnamese entrepreneurs and managers of small and medium enterprises across 64 provinces.
The report notes that waiting periods to register a business are at an all-time low and that more respondents in provinces have received formal land use rights certificates. In addition, provincial legal gazettes – many of them now online – are making it easier for businesses to access the information they need.
The report also indicates that the number of business disputes resolved through Provincial Economic Courts has nearly doubled. The PCI shows that better-governed provinces are able to use their resources more efficiently and influence business performance and income in the future.