Thirty cities and provinces and more than 4,600 businesses across Vietnam took part in Earth Hour 2012, from 8.30pm to 9.30pm local time on March 31, and recorded a saving of 546,000kWh of electricity costing VND712 million.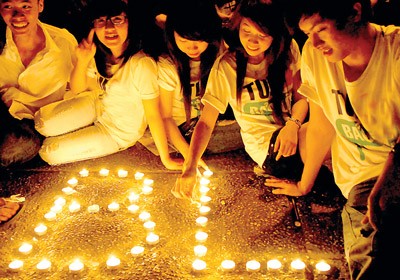 Students in Ho Chi Minh City participating in Earth Hour (Photo:SGGP)
Earth Hour attracted tens of thousands of volunteers from across the country. They mobilised people to participate and turn off their electric lights for one hour at nightfall, along with hundreds of other countries who also participated in the event.
Volunteers also helped organise art programmes like 'A litre of Sun'- a source of future light; Green café; 20 seconds for Earth; and made people aware about environment friendly products.
In Ho Chi Minh City, Sai Gon Giai Phong Newspaper also participated in the global campaign on climate change.
City authorities called on markets, supermarkets, trade centres, parks and businesses to switch off electric power on signboards, hoardings   and decorative show windows for one hour to mark Earth Hour 2012.
Earth Hour is an important event that aims to focus on raising public awareness to collectively work towards reducing global warming and saving of excessive energy.
The main streets of Hanoi such as Trang Tien, Hai Ba Trung, Ly Thai To and the Opera House area were filled with posters calling for people to take part in the campaign by turning off non-essential electric lights for one hour during Earth Hour. Leaflets and relevant information on Earth Hour and climate change were distributed in households in each commune and ward.
Earth Hour 2012 was kicked off at the Cach Mang Thang Tam square at 8.30pm on March 31. Lights then went off simultaneously at the Ngoc Son temple on Hoan Kiem Lake, Hanoi Opera House and Trang Tien plaza.
In the coastal tourist city of Hoi An, there were a wide array of Earth Hour activities such as displays and screened images on Earth Hour, and a musical festival involving youth league members and other artists, local people and tourists.

During Earth Hour 2011, Vietnam saved 400,000kWh of electricity, worth VND500 million.

Earth Hour is organised across hundreds of countries by the World Wildlife Fund organisation, and is held every year on the last Saturday of March, asking households and businesses to turn off non-essential electric lights for one hour at nightfall.