The General Statistics Office of Vietnam yesterday said that the country's gross domestic product (GDP) in nine first months of 2016 was estimated to reach 5.93 percent compared to the same period last year.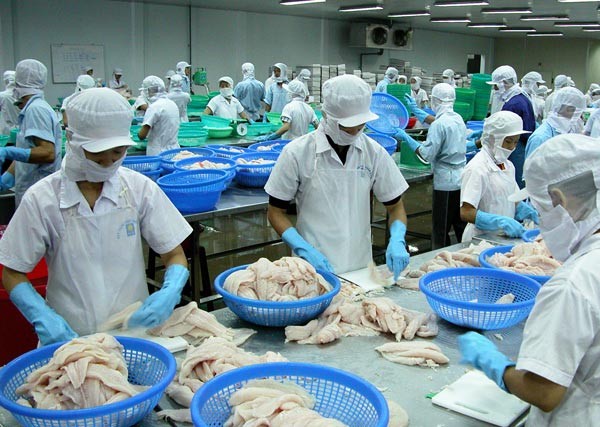 Workers are processing aquatic products for exports (Photo: SGGP)
The GDP of the later quarter is higher than its previous one. For instance, GDP in the first quarter reached 5.48 percent, the next quarter increased by 5.78 percent and the thirds quarter is 6.4 percent.
However, the GDP expansion in the nine-month period remains lower than that of 6.53 percent in the same period last year, said head of the General Statistics Office Nguyen Bich Lam.
This is attributable to continuous decline in the industry and mining while growth of agriculture, forestry, and fishery sector stays lower than that of the same period last year with 0.65 percent and contributing 0.11 percentage point to GDP increase, which is much lower than same period before.
Moreover, the industry-construction sector just leaped by 7.5 percent year-on-year, contributing 2.52 percentage points to the whole growth while the industry sector in nine month just soared by 7.19 percent compared to the same period last year, lower than the growth of first nine months last year with 9.86 percent.
As many as 81,451 enterprises started up in the first nine months with a registered capital of VND629.094 trillion($28.21 billion), up 19.2 percent year-on-year on the number of enterprises and up 49.5 percent year-on-year on registered capital.
On average, each newly-registered enterprise has capital of VND7.7 billion (US$345,300), up 25.4 percent compared to the same period last year. Accordingly, over VND1.789 trillion is used for business in three quarters of the year.
It is forecast that the production and business in the third quarter is better, especially foreign-invested companies and state companies. Up to 85.6 percent of enterprises in the survey report stable production status including 48.8 percent of them being predicted to grow more.