Viet Nam should actively join the international community in shaping common playing rules, Prime Minister Nguyen Tan Dung said yesterday, arguing that this was in the best short and long-term interests of the nation.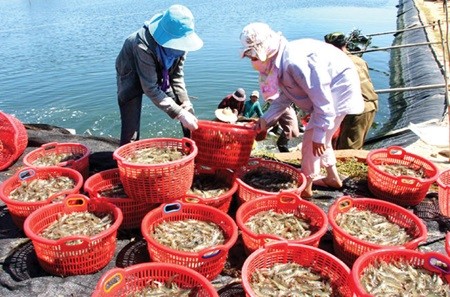 Farmers harvest white-leg shrimps for export in Quang Binh Province. Prime Minister Nguyen Tan Dung yesterday said the country should be proactive in setting rules for global trade as it deepens its international integration in all areas
Addressing the first meeting of the National Steering Committee for International Integration in Ha Noi, he stressed the need for correct approaches to achieving global integration in politics, diplomacy, national defence and security in order to enhance mutual understanding between Viet Nam and partner countries and to foster an environment of peace, stability and development.
The PM also called for acceleration of negotiations on free trade agreements (FTAs) and the better utilisation of existing FTAs.
  While furthering globally assimilation in terms of culture, science, technology, education and training, Viet Nam should strengthen national unity, mobilise all resources for socio-economic development, and protect and assist Vietnamese citizens abroad, he said.
He urged the committee to foster the nation's proactive participation in international treaties and multilateral forums, particularly the ASEAN and the United Nations.
In 2014, Viet Nam achieved well-rounded external relations successes in politics, security and defence, economics, science and education, as well as social and cultural ties, the PM said.
Politically, it made substantial contributions at international forums, responsibly joined activities within the framework of the World Trade Organisation and multilateral economic co-operation forums, and actively participated in the formation of the up and coming ASEAN Economic Community, he noted.
A highlight of the year was the accelerated negotiations on several FTAs. Viet Nam and its partners signed joint statements on completing FTA negotiations with the Customs Union of Russia, Belarus and Kazakhstan, the Europe Union, and the Republic of Korea.
Positive progress has been made in negotiating other agreements including the Trans-Pacific Partnership (TPP), the Regional Comprehensive Economic Partnership (RCEP) and the European Free Trade Association (EFTA), Dung said.
Focusing on multilateral diplomacy through 2020, the Foreign Ministry proposed several measures including hosting large-scale multilateral events and strengthening the ASEAN Community towards enhancing its central role in the emerging regional architecture.
It said co-ordination among ministries, agencies and localities in the process of international integration should be intensified.
The PM asked the Government Office to prepare a report specifying the tasks of each ministry and agency, and directed the Foreign Ministry to devise a draft directive on international integration in line with a relevant resolutions passed by the Party Politburo.
Climate change
Also yesterday, the PM attended the sixth meeting of the National Committee on Climate Change, during which he said that any and all plans to boost socio-economic development and ensure national defence and security must include climate change adaptation.
This urgent and long-term task needed to be carried out synchronously at all levels and by all communities, he said.
The meeting was held to accelerate implementation of the Party Central Committee's Resolution 24-NQ/TW on responding to climate change and strengthening natural resources management and environmental protection.
A report tabled at the meeting said Viet Nam's climate change policies improved in recent years. International co-operation in this field was enhanced and disaster forecasting improved. However, budget funding for such initiatives remained limited, it said