Vietnam should make all efforts to create a new investment wave in 2016 because many free trade agreements (FTAs) have been signed, promising a lot of advantages for trade and investment, and the revised Enterprise and Investment Laws have come into effect improving business environment, said Professor Vuong Dinh Hue who is head of the Central Institute for Economic Management (CIEM).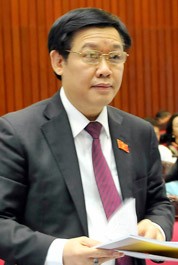 Professor Vuong Dinh Hue (Photo: SGGP)
In an interview with Sai Gon Giai Phong Newspaper Professor Hue said that to create a new investment wave with the national business startup spirit, Vietnam should focus on developing both domestic and foreign direct investment (FDI) firms and reducing the existing gap between them.
The Government should have policies to connect domestic and FDI enterprises and attract investment funds to Vietnam to support the business startup. Many startup businesses have met with difficulties in accessing bank loans without collaterals.
In addition, authorized agencies should continue improving business environment and apply market discipline to all businesses including state own ones.
Vietnam has attended the Trans-Pacific Partnership (TPP) and has to conduct commitments to improve management ability of state own enterprises and boost their financial restructuring.
The 12th congress' document of the Communist Party of Vietnam has determined that private economic sector is an important driving force in the country's development. CIEM has completed a project on directions, solutions and policies to assist small and medium enterprises. According to Mr. Hue, it is their era now.
Besides creating a new investment wave, the second thing should be in focus this year is to build a modern and internationally integrated socialist oriented market economy, which operate fully and synchronously in line with principles and rules of the market economy. The relation between the state and the market should be harmonized.
Reviewing economic conditions last year, Professor Hue said that international organizations agreed that the world's economy fell in a long-lasting low growth phase, recovered slowly and unequally among nations. Most emerging markets met with difficulties.
Still the Vietnamese economy achieved success in meeting 13 out of 14 goals set by the National Assembly, and reached the highest gross domestic product (GDP) growth for the last eight years hitting 6.68 percent.  It was the first time for the last five year tenure that GDP grew higher than the National Assembly target of 6.2 percent.
Many factors contributed to the economic recovery, including a strong increase in industrial production especially manufacturing and processing. Besides, FDI sector continued posting high export growth rate, purchasing power and aggregate demand were improved and implementation of the Investment Law 2014 and Enterprises Law 2015 brought initial effects.
All these highlights contributed in stabilizing macro economy. However there are still a number of limitations in need of being solved in 2016.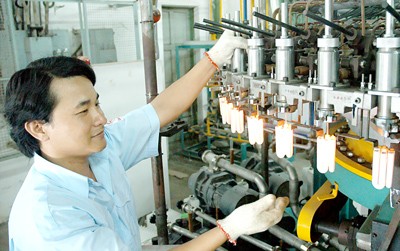 Compact light manufacturing at Dien Quang Lamp Joint Stock Company (Photo: SGGP)
The driving force of economic growth largely depended on FDI sector whose export turnover accounted for 65-70 percent of the country's total. They have mainly done outwork and assembly works with low localization rate and added value.
Exports by domestic firms reduced over the previous year. Their productivity, product quality and competitiveness were not high. Agricultural field posted low growth rate as exports reduced in both value and volume.
Budget balance was difficult, public debt quickly surged to near the ceiling level, resulting in heavy debt payment pressure.
Economic restructuring with mainstays being public investment, state own enterprises and commercial banks showed some progresses but they were not high as expected.
Resolutions on improvement of business environment and competitiveness yielded many encouraging results but there was a distance between regulations and implementation.
This year the world's economy is estimated to recover better and almost escape from negative impacts of the financial crisis since 2008. This will positively impact Vietnam's macro economy especially trade and investment.
With these conditions, Professor Hue forecast that Vietnam's economic growth will be higher than that of last year although it will not be easy as Vietnam has renovated its growth model.
The Central Institute for Economic Management forecast that prices of materials, crude oil and farm produce will remain low, greatly affecting agricultural industry and budget revenue from oil and gas.
The U.S. Federal Reserve's interest rate increase might affect the world's economies particularly emerging ones including Vietnam. It will hike production costs and might cause investment capital moving out from developing nations and return back to developed countries.