Vietnam and Slovakia have agree to further promote bilateral trade ties by expanding investment cooperation in various areas, including infrastructure building, railway, renewable energy, environmental technology and equipment, and food processing.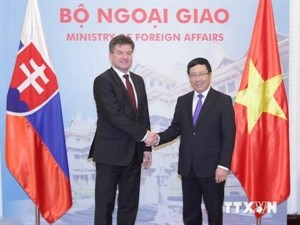 Deputy Prime Minister and Foreign Minister Pham Binh Minh (R) welcomes his Slovakian counterpart Miroslav Lajcak. Photo: VNA
The agreement was reached during talks between Deputy Prime Minister and Foreign Minister Pham Binh Minh and his Slovakian counterpart Miroslav Lajcak on November 4 in Hanoi .
They concurred to continue maintaining the mechanism of the Vietnam-Slovakia Inter-Governmental Committee on Economic Cooperation.
Both sides underscored the importance of fostering the traditional friendship and multi-faceted partnership between the two countries, which has a history of nearly 65 years.
The two officials discussed ways to enhance bilateral affiliation in the fields of politics-diplomacy, defence-security, economy-trade, culture, education-training, and development cooperation.
They reached high consensus on the need to increase delegation exchanges, as well as boost their coordination at regional and international forums, especially the United Nations and the Asia-Europe Meeting (ASEM).
Slovakian Deputy PM and Minister for Foreign and European Affairs Miroslav Lajcak revealed that his country has ratified the Vietnam-EU Framework Agreement on Partnership and Comprehensive Cooperation, and supports the early conclusion of negotiations for the EU-Vietnam Free Trade Agreement (EVFTA).
The two sides also exchanged views on a number of regional and international matters of mutual concern, including the East Sea issue.
Deputy PM Minh used this occasion to thank the Slovakian Government for assisting the Vietnamese community in the country.
Following the talks, the two Deputy PMs witnessed the signing of a memorandum of understanding on cooperation in environmental protection and water resource management between the Vietnamese Ministry of Natural Resources and Environment and Slovakia's Ministry of Water Environment