The Vietnamese government is striving the country's gross domestic product growth target for 2016 to between 6.3-6.5 percent as the economy has remained stable for the first nine months, said Prime Minister Nguyen Xuan Phuc at a two-day annual cabinet meeting on October 3.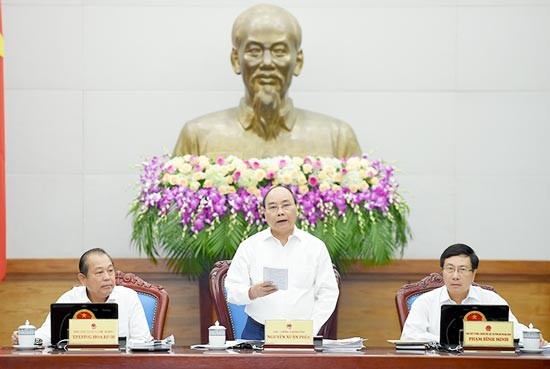 PM Phuc speaks at the cabinet (Photo: SGGP)
PM Phuc said that the fourth quarter has many good conditions, allowing to boost the annual GDP growth target, as a result, the last quarter GDP growth rate was higher than the previous, especially in the third quarter GDP growth reached 6.4 percent. Inflation was low.

In September, the attraction of foreign direct investment (FDI) project was quite good, an increase in trade surplus, and most of the remittance flew into production and business.

The number of newly-registered enterprises leaped on the quantity and capital. Agriculture sector has seen a big change with increase of 0.65 percent in the third quarter.

Around VND3 trillion was spent to support inhabitants in the central provinces where fish died en mass due to polluted environment.

However, PM Phuc said the GDP growth rate in the first nine months just reached 5.92 percent much lower that the same period last year. To boost the GDP growth target from 6.3 percent to 6.5 percent, the economy in the fourth quarter must speed up to reach 7.1-7.3 percent.

This year, the National Assembly has assigned the government to complete 13 targets and the government has finished 11 of them. Two remaining has not finished. Accordingly the PM, the government should be determined to finish it by adopting detailed measures.

PM Phuc stressed that the government should create favorable condition and resolve all matter to boost production and business to achieve the target of 6.3 percent – 6.5 percent.

All remaining must be discussed at the meeting to find out measures to solve them.