Vietnamese Minister of Agriculture and Rural Development Cao Duc Phat talked with Thai Minister of Agriculture and Cooperatives Petipong Pungbun Naaydhya about cooperation in building a sustainable rice market and increasing the value of export farm produce on March 12.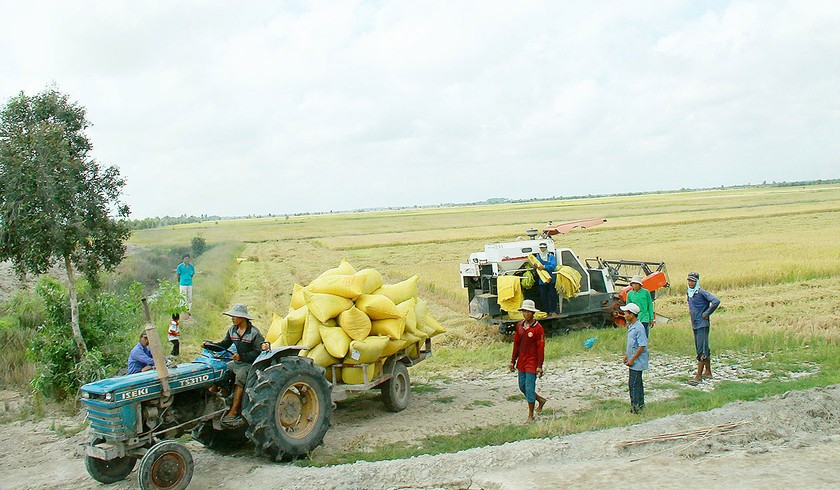 Farmers harvest rice in Hon Dat District, Kien Giang Province (Photo: SGGP)
Mr. Petipong Pungbun Naaydhya said that Thailand and Vietnam are the two largest farm produce exporters in the Southeast Asia and among the world top nations.
 
However competition among businesses have pushed up prices of many key export products such as rice, rubber, seafood, vegetables and sugar causing damage for farmers.
 
According to a commitment joined by exporters in the region, they are not permitted to offer rubber price of below US$1,500 a ton. However, a business shipped it at US$1,450 under FOB (Free on Board) term from Da Nang Port in January, he cited.
 
Similarly, Thailand's rice export price is lower than Vietnam's. It averaged US$390 a ton in the first two months this year while Vietnamese rice was priced at US$400.
 
The Thai Minister said that offering low export price has resulted THB30 billion (US$914.47 million) in losses for their country for the last couples of years.
 
Vietnam and Thailand have many similar rice varieties which account for 50 percent of the global rice export volume.
 
He proposed the two countries to map out cooperation strategies for a sustainable export market with long term benefits and put an end to unhealthy competition among businesses.
 
Specifically they can work together to build strategies on rice standards, prices, quality and productivity, he added.
 
Minister Cao Duc Phat affirmed that Vietnam would closely work with Thailand to take action for long term benefits of the two sides.
 
Vietnam is cultivating four million hectares of rice and over one million hectare of rubber plants.