The South Hanoi Urban Development Joint Stock Company has begun construction of VinMedicare, proposed as Vietnam's first general hospital offering world class facilities and services.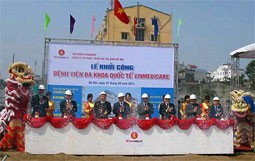 Representatives from the Ho Chi Minh City authorities and Vingroup at the breaking ceremony. (PhotoTintuc)
Located in the Eco City complex at 460 Minh Khai Street in Hanoi, the hospital will cover a total area of 24,670sq.m.
The South Hanoi Urban Development Joint Stock Company part of the Vincom Joint Stock Company, under the flagship concern of the Vingroup Corporation will invest largely in building the hospital as a modern well equipped hospital with all 5-star amenities and high international standards.
Speaking at the ground breaking ceremony, Le Khach Tiep, deputy chairman of Vingroup said plans for building a world class health care centre had long been in the pipeline in Vingroup. The company planned the health care centre to help society and contribute to raising standards in health and quality of life.
Once complete, the hospital will be a force to reckon with in terms of competition and quality concern for people in Southeast Asia.
VinMedicare at Eco City is the first phase to set up a chain of similar hospitals across the country under the name of VinMedicare.
VinMedicare will have more than 500 five-star private rooms, all designed to receive natural light and have luxurious facilities. There will be 25 VVIP rooms and two presidential suites available on request.  It also aims to hire the countries most qualified medical experts and doctors.
The king-sized luxurious private suites will provide extra accommodation to patients' families and accompanying assistants or secretaries, along with a spacious living room.
The hospital is expected to be complete by next year.