The Disabled People's Association in Hanoi and the Vietnam Institute for Educational Sciences, in close co-operation with Vietnam Television, have designed a sign-language teaching program for deaf people, that will run on television.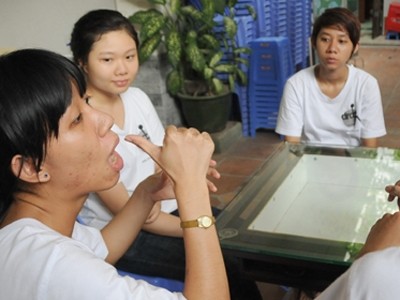 Illustration file photo
The weekly program will be aired on VTV2 (Vietnam Television 2) channel from March at 11 pm every Thursday, with a repeat program at 9 am on Sunday.
At present, Vietnam has around 6.7 million disabled people and more than 1 million deaf persons. Among the deaf, 400,000 are school going age while 20,000 deaf children are already attending school.
Deaf people face difficulty in communication, studying, vocational training as well as accessing administrative services and mixing in society.
They find it particularly hard to find appropriate jobs; consequently most of them cannot integrate into mainstream society.
This program hence hopes to implement the guidelines set by the International Convention on Rights of Persons with Disabilities, adopted on December 13, 2006 at the United Nations Headquarters in New York.