On the occasion of  the 20th anniversary of U.S.-Vietnam diplomatic relationship normalization in 2015 US General Consul Rena Bitter had a talk about bright spots in the two-sided relations with Sai Gon Giai Phong newspaper.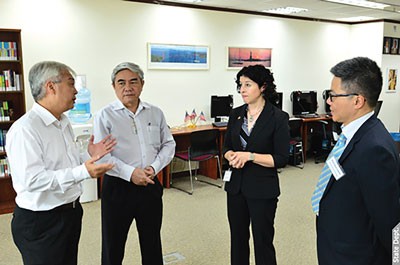 The US General Consul Rena Bitter with representatives at a seminar to discuss high education reform  (Photo: SGGP)
As we look back at how closer the two countries move together, how the ties between the two people have strengthened, good relations between the two countries have brought out bright spots in the relationship especially in the fields of commercial, investment and education, she said.

As the relationship has grown over the years, Vietnam is one of the important economic partners of the US. Two-sided commercial revenue reaches US$30 billion a year, an increase of 60 times compared to 1995.
The U.S. has become a largest export market of Vietnam and the figure surged by 20 percent annually. Vietnam attracted US$10.6 billion in foreign direct investment (FDI) from the US which is ranked as seventh biggest foreign investors in the country. Many US well-known companies have set up its offices here.

As the relationship has grown over the years, the US has expanded educational linkages even further. The US government has sponsored Vietnamese students and scholars by giving scholarships through exchange learning programs.

These students and scholars have become cultural bridges and representatives in relations between the two countries. The moves in educational development not only change the relationship between the two countries in 20 years but also lay a firm foundation for future achievements.

The US government is proud to make efforts in investing in human resources through education exchange program, she said.

The Higher Engineering Education Alliance Program also helps training Vietnamese skilled labor force. The general consulate also set up programs to support young enterprises and this year the US government will launch US Secretary of State John Kerry's program on supporting public administration reform.