Prime Minister Nguyen Tan Dung has affirmed that Vietnam hopes to work more closely with the US to expand the bilateral partnership in all fields for the mutual interests and development of both countries.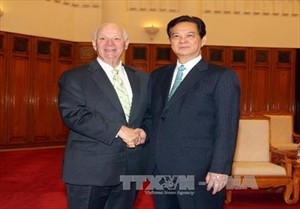 Prime Minister Nguyen Tan Dung receives Chairman of East Asian and Pacific Affairs Subcommittee under the US Senate Committee on Foreign Relations Benjamin Cardin (Photo: VNA)
Meeting Chairman of the East Asian and Pacific Affairs Subcommittee under the US Senate Committee on Foreign Relations Benjamin Cardin on May 28 in Hanoi, he said Vietnam is also willing to discuss with the US potential cooperation areas as well as issues of mutual concern.
Vietnam is taking part in negotiations for a Trans-Pacific Partnership (TPP) in a responsible manner, however, as a poor and developing country, it has specific requirements, said PM Dung, suggesting that the US show necessary flexibility to Vietnam during the negotiations so that the TPP can be concluded soon.
PM Dung also thanked the US for raising its voice against China's illegal placement of its oil rig in Vietnam 's exclusive economic zone and continental shelf.
Stressing that China's move seriously infringed international law, threatening peace, security and maritime safety and freedom in the East Sea, he said he hopes the US will continue strongly condemning China's violation.
The government leader also suggested that the US enhance cooperation with and support Vietnam in surmounting the consequences of bombs and mines left by from the American War in Vietnam, as well as the impacts of Agent Orange/Doxin.
Briefing his host on the outcomes of his meetings with Chairman of the National Assembly Nguyen Sinh Hung and Deputy Prime Minister and Foreign Minister Pham Binh Minh on May 27, Cardin said the US is keen on further beefing up the multifaceted partnership with Vietnam .
He expressed his belief that the two countries, together with other nations involved in the TPP, will exert efforts to conclude the negotiations for the deal in an early date, creating a chance for the countries to open their market and reform their economic growth models.
The US will continue its close coordination with Vietnam in overcoming the aftermaths of Agent Orange/Dioxin and bombs and mines, protecting the ecological environment and coping with climate change and sea level rise, he said.
Mentioning the recent dangerous developments in the East Sea, the senator said he is deeply concerned about China's provocative behaviour.
He said China's act is a serious violation of international law and the 1982 United Nations Convention on the Law of the Sea, causing instability and threatening peace, stability and maritime security and safety in the East Sea .
He emphasised the need to settle all disputes through peaceful measures on the basis of respect for international law.
Cardin said he will raise the case, as well as the wider East Sea issues, at the upcoming Shangri-La Dialogue in Singapore.