Vietnam will continue to work with APEC member economies in order to step up regional cooperation and consolidate the position of the APEC forum, Vietnam's representative confirmed at the 26th APEC Foreign and Economic Ministerial Meeting which commenced in Beijing on November 7.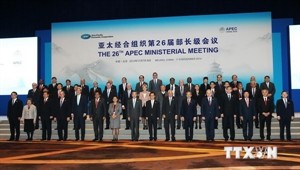 Deputy Prime Minister and Foreign Minister Pham Binh Minh (third from right) attends the event (Photo: VNA)
Addressing the first plenary session, Deputy Prime Minister and Foreign Minister Pham Binh Minh spoke highly of the forum's development process, which was actively driving global economic growth and increasing the position of the Asian-Pacific region.
He called on member economies to strengthen cooperation on sustainable development, narrowing development gaps and ensuring social welfare, poverty eradication, gender equality, and collective responses to global challenges.
It was also necessary to concentrate on economic and technical affiliation and enhance the capacity of developing economy members as well as take into consideration the development level of member economies in cooperation, he added.
The Deputy Prime Minister and Foreign Minister suggested member economies continue to actively support the sub-regional and regional collaboration programmes, including the establishment of the ASEAN Community in 2015, implementing the master plan on ASEAN connectivity, and narrowing development gaps within the bloc and the Greater Mekong Sub-Region.
Addressing the opening ceremony, Chinese Foreign Minister Wang Yi highlighted the special meaning of this year's conference, which marks the 25th founding anniversary of APEC and the 20th anniversary of the Bogor goals of liberalising and facilitating trade and investment.
Ministers agreed that it was important to enhance multilateral cooperation to maintain peace and stability in the region, based on the spirit of mutual trust and shared benefits.
They also proposed a number of measures to increase comprehensive links, develop infrastructure, and respond to global challenges, such as natural disasters and corruption.
APEC was founded in 1989 and has 21 members, namely Australia, Brunei, Canada, Chile, China, Hong Kong (China), Indonesia, Japan, the Republic of Korea, Malaysia, Mexico, New Zealand, Papua New Guinea, Peru, the Philippines, Russia, Singapore, Taiwan (China), Thailand, the US and Vietnam.
Representing approximately 40 percent of the world's population, 55 percent of global economic output and 44 percent of total trade, APEC aims to boost sustainable economic growth built on the three pillars of trade and investment liberalisation, business facilitation, and economic-technological cooperation.
Vietnam joined APEC in 1998, and since then the country has played an active role in a number of initiatives.
Last September, the 6th APEC Ministerial Meeting on Human Resources Development was successfully held in Hanoi.
Vietnam is actively preparing for the APEC Year, which the country will host in 2017.