The US Court of Appeals, Second Circuit in New York, announced that the first hearing between Vietnamese Agent Orange (AO) victims as plaintiffs and 37 chemical companies of the United States as defendants, which were scheduled for April 10, was delayed.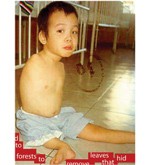 An agent orange victim
The head of the Vietnam Association of Victims of A/O (VAVA) information department Mai The Chinh said that the association received the official decision from the New York Court on April 7. The delay was due to the fact that the defendants had not yet prepared all of their documents. US lawyers for the plaintiffs said the Oral Arguments will possibly be heard in late May.

Regarding to the lawsuit, Deputy Chairman of the Vietnam Association of Victims of A/O (VAVA) Professor Nguyen Trong Nhan said after the international conference about A/O victims which was held on March 28 – 29 in Ha Noi, there have been activities in many countries in the world to support the lawsuit filed by Vietnamese A/O victims, especially in these countries such as Korea, the US, Australia, Canada, New Zealand.

To support the struggle of the A/O victims, VAVA will launch a new campaign for the lawsuit in the country and abroad.

Related links:
- International Conference on A/O Victims to Be Held
- Discovery of Gene Mutation in Agent Orange Victims: Scientists
- Agent Orange Victims Demand Justice for Toxic Effects
- Int'l Representatives Support Vietnamese Agent Orange Victims