At talks with his Azerbaijan counterpart Ilham Aliyev in Hanoi on May 19, President Truong Tan Sang made clear Vietnam's stance on expanding relations with the Eurasian country as its major partner in southern Caucasus.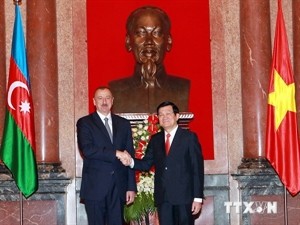 At the talks (Source: VNA)
It is part of Vietnam's diplomatic policy of independence and self-reliance while diversifying its ties with foreign countries on way to integrating into the world economy, Sang said.
Aliyev confirmed that Azerbaijan pays heed to developing its long-standing cooperation with Vietnam as the host country is its key partner in Southeast Asia.
Sharing the view that both nations are well-positioned to foster sweeping collaboration with a focus on trade and investment, the two leaders agreed to lift annual two-way trade from the modest existing 400 million USD to 1 billion USD in the coming years.
To this end, economic units and businesses will facilitate regular visits, seeking ways to expand market shares in each side.
Regarding bilateral oil and gas links as a strategic priority in the long run, Aliyev vowed to provide Vietnam with legal assistance, making it easier for the country to invest and buy oil from his country and broaden their cooperation at a third country.
Apart from the light industry and real estate as promising cooperative fields, both leaders also voiced the need to intensify joint work in education-training, and tourism, including the possibility of opening a direct air flight.
Turning attention to the ongoing tensions in the East Sea, President Sang voiced the stance shared by ASEAN and Vietnam on settling maritime disputes by peaceful means in conformity to international law, including the 1982 United Nations Convention on the Law of the Sea and the Declaration on the Conduct of Parties in the East Sea.
Presidents Sang and Aliyev were absolutely unanimous on the peaceful settlement of any conflict in line with international law and the UN Charter.
On mutual support at multilateral forums, the host suggested Azerbaijan backs Vietnam's bid for a seat at the UN Economic and Social Council for the 2016-2018 tenure and the UN Security Council for the 2020-2021 tenure.
After the talks, the leaders witnessed the signing of inter-government agreements on economic, trade, science-technology cooperation and double taxation avoidance.
Later the same day, Aliyev met with nearly 200 alumni who once pursued studies in Azerbaijan, during which he said he hopefully welcomes more Vietnamese students to his country.