The "Festival for Vietnamese disabled people 2006" was jointly held by Viet Nam Association for Production and Trading of Disabled, Association of Disabled and Children Support, Association of Village Occupations in Ha Noi on April 14.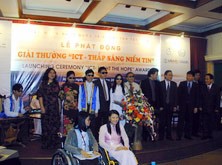 More Vietnamese disabled people are awarded for their contributions to the nation developement.
Many products made by the Vietnamese disabled have been on display at more than 120 booths in the festival.
Moreover, this is an opportunity for the Vietnamese disabled across the country to meet and share their work experience, aiming at boosting the cooperation and creating more jobs for them.
At the four-day festival, numerous activities are performed by people with disabilities, including trade fair, exhibition showcasing typical products of many enterprises of the disabled, traditional musical and cultural programs, folk games, food and drinks feast, etc.
Particular, a cultural exchange program titled "One World - One Heart" is being held on the sidelines of the festival, appealing for donation to the orphans and the disabled.