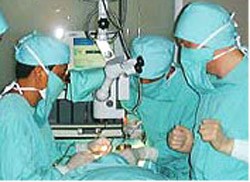 Doctors conduct an eye operation (Photo: SGGP)
Ho Chi Minh City doctors have conducted free cataract operations and other eye surgery on vision-impaired Cambodians as part of a charity program. Viet Nam's Kien Giang Province is helping to cure Cambodians in the province of Kampot.
The Vietnamese doctors have brought light to 276 Cambodians after three days hard work. An operation normally costs VND600,000 (about US$38). Besides, the Vietnamese medical mission gave out 320 presents worth VND120,000 (US$8) each to the Cambodian patients.
This is the fourth time the Kien Giang Sponsoring Association for Poor Patients has arranged these free eye operations in Kampot. In total, almost 800 Cambodians in Kampot have been treated from blindness thanks to free operations arranged by the association.
Related Articles:
Cambodian King Visits Viet Nam to Embrace Cooperation
Viet Nam, Cambodia to Further Mutual Cooperation