The Vietnamese People's Association in the Czech Republic was awarded the Third Class Labour Medal on November 13 for its contributions to garnering solidarity amongst the community of expatriate Vietnamese and helping consolidate the relationship between Vietnam and the Czech Republic.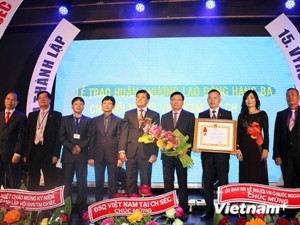 Scene of the awarding ceremony. (Photo: VNA)
A ceremony to celebrate the 15th anniversary of the association was also held on this occasion.
Deputy Minister of Foreign Affairs and Chairman of the State Committee for the Overseas Vietnamese Affairs Vu Hong Nam spoke highly of the association and its chapters' role in connecting the Vietnamese community through a range of activities, such as sport and music events, Vietnamese language classes and establishing Vietnamese-language newspapers and portals.
Speaking at the event, Chairman of the association Hoang Dinh Thang said since its establishment on November 15, 1999, the association had become a strong social organisation that has drawn the participation of Vietnamese expats based on solidarity, integration into the host society, and close-knit relations with Vietnam.
The association currently has 28 member associations and 48 Vietnamese People chapters with a 96-member executive board, representing nearly 65,000 Vietnamese expats in the Czech Republic.
Over the past 15 years, the association has undertaken maximum efforts to increase the Vietnamese community's quality of life and promote cooperation with the host country in a number of fields.
The Vietnamese community was officially recognised as the 14th ethnic minority group in the Czech Republic in July, 2013.