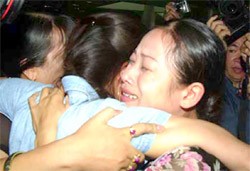 Tears of joy on the day of reunification.
The first 20 Vietnamese workers evacuated from Lebanon were moved to tears as they arrived at Ha Noi's Noi Bai International Airport Friday.
Forty more of the first 60 Vietnamese workers scheduled for evacuation are due to arrive in Ha Noi today, according to Viet Nam Airlines (VNA).
The second stage of evacuation will begin on Sunday, affirmed Vietnamese counselor Tran Viet Tu.
The workers who returned home said that they received kind and whole-hearted help during their repatriation from Beirut to Viet Nam.
Vo Thi Ly, lived near an airport petrol depository in Beirut, which was recently bombed and burned for two days. "The bombs and guns everyday were terrifying," she said. "I hoped and prayed for home and fortunately officials from Viet Nam's embassy came to help."
Le Thi Luyen came to Lebanon in search of work when her daughter was 15 months old and was moved to tears when she was reunited her family. "Without the government's help, I would not have ever seen my baby again. I appreciate that so much," she said in tears while holding her daughter tight.
Representatives of the Ministry of Labor, Invalids and Social Affairs (MOLISA) have given US$150 to each worker.
A full list of all Vietnamese nationals in Lebanon to be repatriated has been made; however, some Lebanese families want to keep the Vietnamese labors with them.
Vietnamese officials in Lebanon are working hard to help Vietnamese workers return home as soon as possible. Three laborers have been reported missing and Vietnamese officials are currently verifying the information.