The Vietnamese People's Association in Russia on Aug. 19 raised nearly 33,000 USD to support Agent Orange/AO victims in the home country.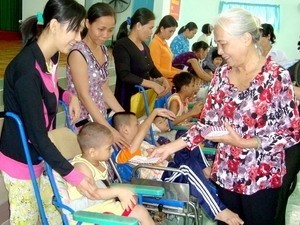 Agent Orange/AO young victims
Of the total, German Zakharliev, Director of the Sadovod Trade Centre, where the raising-fund ceremony was organised, contributed over 17,000 USD.
The event was held in response to the appeal by the Vietnamese Embassy in Russia for the Vietnamese community in Russia to join hands to support AO victims.
The Vietnamese community in Russia and Russian friends have, to date, collected over 64,000 USD to support AO victims, accounting for one quarter of the fund raised by overseas Vietnamese worldwide.