Visiting Lao Prime Minister Bouasone Bouphavanh was received by top Vietnamese leaders on Tuesday in Ha Noi on the first day of his visit to Viet Nam.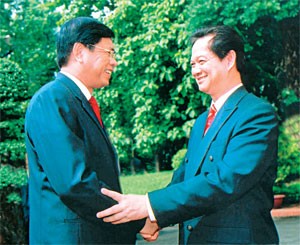 Mr.Bouasone Bouphavanh (L) shakes hands with Mr.Nguyen Tan Dung in Ha Noi on August 29

Prime Minister Nguyen Tan Dung highly praised Mr. Bouasone Bouphavanh's choosing Viet Nam as the first country to visit since his election, which shows friendly relationship between the two countries.
The Lao PM briefed the Vietnamese PM about the socio-economic development and security situation in his country, and stressed that Laos always regards Viet Nam as a top partner.
"That Viet Nam has become the second biggest investor of Laos has showed great efforts of the Vietnamese government in assisting our country to develop. Laos will give the most favorable conditions to Vietnamese enterprises," he said.
He also proposed that the two country foster ties in terms of investment, hydropower, agriculture, transport and communications, industry, education and training.

Laos and Viet Nam should complete infrastructure as well as strengthen co-operation between the northern bordering provinces of the two countries, he added.

Mr. Dung said Viet Nam attaches great importance to comprehensive cooperation with Laos in terms of politics, economics, trade, investment, security and defense.

He totally agreed with the above-mentioning proposals of the Lao PM, adding that the two countries should have more cooperative projects on mineral extraction, rubber tree planting and processing industry.

The two PMs asked the ministries, local authorities and chairmen of the cooperation committees to implement reached agreements and projects on communications and hydropower in the bordering areas to develop an economic belt. They promised Viet Nam and Laos will strive for effective implementation of East-West corridor projects and Mekong sub-region cooperation.
While receiving the Lao Prime Minister Bouasone Bouphavanh in Ha Noi on Tuesday, Party General Secretary Nong Duc Manh also affirmed that the ties are a source of strength, a decisive factor that contributed to the success of each nation's revolution and a valuable asset of both Viet Nam and Laos that should be maintained and passed to younger generations.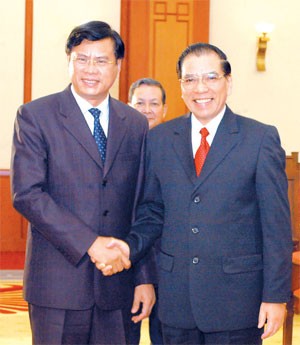 Mr.Bouasone Bouphavanh (L) shakes hands with Mr.Nong Duc Manh in Ha Noi on August 29
The Party leader expressed his joy at the fine developments in the traditional friendship, special solidarity, and comprehensive cooperation between the two countries over the recent past.

For his part, PM Bouasone Bouphavanh, who is also a Politburo member of the Lao People's Revolutionary Party Central Committee, asserted that the Party, Government and people of Laos will try their best to consolidate and develop the traditional friendship, special solidarity and comprehensive cooperation between the Parties, States and people of the two countries.

The two sides showed their determination to preserve and develop special relations between Viet Nam and Laos that have been built by President Ho Chi Minh, President Kaysone Phomvihane, as well as the Parties and people of the two countries.

Secretary General Nong Duc Manh stressed Viet Nam's support for Laos in international and regional forums such as the UN, ASEAN, ASEM, the Non-Aligned Movement and the Francophone summit.

The Lao Government leader repeated General Secretary and State President Choummaly Sayasone's invitation to General Secretary Manh to visit Laos. General Secretary Manh thanked for and accepted the invitation with pleasure.

The same day, PM Bouasone and his entourage were received by State President Nguyen Minh Triet who affirmed that the Vietnamese Party, State and people will continue to support and assist the Lao people for mutual development.

Viet Nam will give priority and assistance to the Lao people in the fields of transport, agro-forestry development, hydroelectric power and personnel training, said President Triet.

Mr. Bouasone said his first visit to Viet Nam in his new position as Prime Minister of Laos aims to further enhance the friendship and special solidarity between the two Parties, States, Governments and people of the two nations.
President Triet and PM Bouasone held that the political ties between Viet Nam and Laos have been developing well. However, the two countries should make greater efforts to further intensify bilateral cooperation in economics, trade and investment to match with their true potential, they said.
Host and guest both believed that the two countries' economic, cultural, scientific and technological cooperation will be further developed in the future.

At a meeting on the same day, National Assembly Chairman Nguyen Phu Trong and PM Bouasone Bouphavanh expressed their hope that the two nations' legislative bodies will increase the exchange of experiences, especially in law-making, in order to fulfill the tasks of each country.
Viet Nam and Laos have enjoyed a time-honored relationship that has increasingly developed in all areas, said NA Chairman Trong.

The NA leader stressed that the two nations should organize practical activities to celebrate the 45th anniversary of diplomatic ties and the 30th anniversary of the signing of the Viet Nam-Laos Friendship and Cooperation Treaty, as well as to improve younger generations' awareness of their special relations.
On August 30, Lao PM and his delegation visited the memorial of war matyrs and President Ho Chi Minh's Mausoleum.