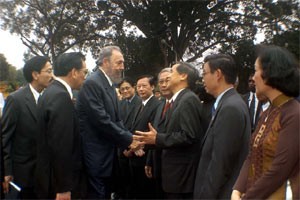 Cuban President Fidel Castro (3rd, L) is welcomed by General Secretary Nong Duc Manh (2nd, L) and Vietnamese leaders in his visit to Viet Nam in 2003.
Vietnamese top leaders of the Party, State and Government leaders on Aug. 2 extended their best wishes for a speedy recovery to Cuban President Fidel Castro Ruz, who has been hospitalised for surgery.
In their messages to Fidel Castro, who is First Secretary of the Communist Party of the Cuba Central Committee, and the President of the Council of State and the Council of Ministers, Communist Party General Secretary Nong Duc Manh, President Nguyen Minh Triet and Prime Minister Nguyen Tan Dung sent their warm regards and expressed wishes for a quick recovery to the Cuban leader.

Cuban President Fidel Castro said Monday he underwent surgery and had temporarily handed power to his brother, Raul, for the first time in his 47 years atop the government.
The intense agenda of a recent trip to Argentina and to eastern Cuba touched off the need for complex surgery, President Fidel Castro said in a statement read over radio and television by his personal secretary Carlos Valenciaga.
"Working day and night and barely sleeping has taken its toll on my health, which has withstood everything, has undergone extreme stress and has become brittle," he said.