The overseas Vietnamese community in Russia has vowed to aid their home nation in the face of China's recent violations of Vietnam's sovereignty at sea.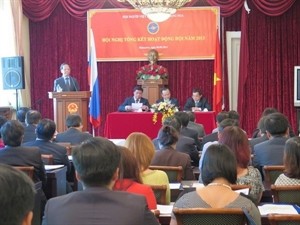 At the event (Source: VNA)
The pledge was made in an open letter that will be sent to Party and State leaders. It was drafted at a meeting of the Vietnamese Association in Russia on May 9 discussing its 2013 activities and working out orientations for 2014.
In the letter, they expressed their protest over China's brazen placement of an oil rig in an area deeply within Vietnam's exclusive economic zone, and said they feel angry that the Chinese media has distorted the dispute and incited hatred between the two nations.
They also strongly condemned China's provocative acts which have blatantly violated Vietnam's sovereignty and territorial integrity, against the 1982 United Nations Convention on the Law of the Sea and the agreement on basic principles guiding the settlement of the East Sea issue reached by both nations' leaders.
The association fully believes in the leadership of the Party and State and the heroic tradition and strength of Vietnam in firmly safeguarding independence, sovereignty and territorial integrity, it said.