Vietnamese people jostled to buy gold yesterday because the tenth day of the Lunar New Year, which falls on February 17 this year, is the God of Wealth Day according to Vietnamese traditional belief, if those who buy gold on that day will bring good luck and prosperity throughout the year.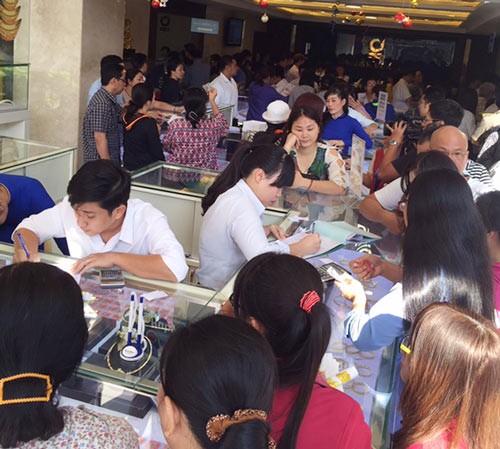 Many people buy gold in the day of God of Wealth (Photo: SGGP)
Though Saigon Jewelry Co, the producer of the national gold brand SJC, in Nguyen Thi Minh Khai Street in Ho Chi Minh City's district 3 announced to open at 8 AM, many people were queuing at daybreak to wait  for their turn to buy some pieces of gold for luck.
After the shop was officially opened, more and more people waited. People bought gold with image of the God of Wealth and Maitreya.

Ms. Dieu Mi in district 3 said that on the way to the office, she  dropped by the shop to buy one tenth of a tael for luck, and she had to wait for over 40 minutes.
Similarly, couple Hung Huy in district 5 said that every year they buy one tael of gold in the day of Wealth God and this year, the couple bought a tael of gold with image of a Buddha.
All gold shops in the city were crowded with customers yesterday. To meet the customers' demand, the companies launched various products with interesting promotion programs and gifts. In addition to gold tael with image of Buddha and God of Wealth, many gold pieces have the image of the animals.

Ms. Nguyen Thi Thu Cuc, deputy general director of Phu Nhuan Jewelry Co (PNJ) said that Vietnamese people have a habit to keep gold in their houses; accordingly, the company had produced and distributed over 100,000 different products. The volume of selling produts doubled last year, Cuc said.

Though demand of gold increased yesterday, gold prices in many companies are different. For instance, the precious metal was sold at VND33.3 million a tael  and bought at VND33.75 million a tael, down VND50,000 against the previous day. Meantime, DoJI Corporation quoted at VND33.55 million a tael in buying and VND33,85 million a tael in selling.