Vietnamese Prime Minister Nguyen Tan Dung and his delegation of high-rank officials arrived in Tokyo on Wednesday afternoon, beginning his four-day official visit to Japan at the invitation of his Japanese counterpart Shinzo Abe.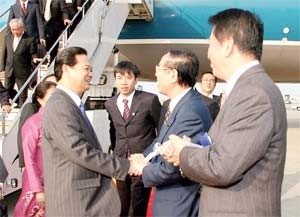 Vietnamese PM Nguyen Tan Dung (L) is welcomed at Haneda Airport in Tokyo.
Upon his arrival at Haneda Airport in Tokyo, the Vietnamese PM and his missus were warmly welcomed by both the Japanese Deputy Minister of Foreign Affairs, Asano Katsuhito, and the Japanese ambassador to Viet Nam, Norio Hattori.
After the welcoming ceremony, Prime Minister Nguyen Tan Dung visited the Vietnamese Embassy in Japan. Talking with the Embassy's staff, Vietnamese living in Japan and students studying there, the PM highly praised their great efforts and contributions in enhancing the bilateral relationship between the two nations over the past years.
The PM also briefed them on Viet Nam's progress in socio-economic development and the current foreign policies; saying that the country focused on strengthening the relationship with Japan in all fields.
According to Mr. Dung, Japan is the largest official developmental assistance donor to Viet Nam, having pledged US$11 billion from 1992-2005, or about one third of the total international aid given to the country during that period.
"Japan is an important partner for Viet Nam and the two countries' leaders wish to bring the bilateral relationship to a new level, making it a strategic partnership, for the sake of the citizens, for peace, and for stability in the region and throughout the world," stressed PM Dung.
He said this visit demonstrated the two countries' strategy for development, including the increase of Japan's Official Development Assistance (ODA) for Viet Nam to carry out key projects which will contribute to Viet Nam's socio-economic development as well as bring practical benefits to the Japanese investors.
The PM expressed his hope that the Vietnamese Embassy in Japan, together with other representative organizations of Viet Nam, would continue to enhance cooperation, particularly in politics and trade investment to achieve the aim set for 2010 of US$17 billion in bilateral turnover.
In the evening, PM Dung, his wife and other delegates attended a banquet held by the Japan-Viet Nam Parliamentarians' Friendship League and several Japanese parties.
In the first nine months of this year, the two-way trade turnover of Viet Nam and Japan hit nearly US$7.2 billion, an annual increase of 20%. Japan has invested in 667 Vietnamese projects so far with a total registered capital of US$6.8 billion.