President Truong Tan Sang, his wife, and his high-level delegation visited Osaka, Kansai,  two industrial centers in Japan on March 19 during their tour of the city.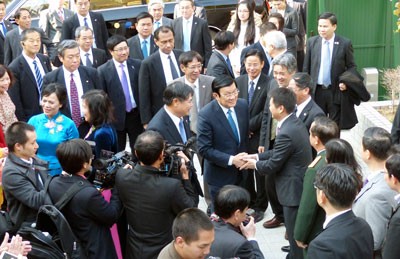 President Truong Tan Sang and his wife talk with Vietnamese community in Japan (Photo: SGGP)
The Emperor Akihito and Empress Michiko attended the National Guesthouse to bid farewell to President Sang and his wife.
On behalf of state delegation, President Sang and his wife thanked for the hospitality of the Emperor, Empress, Japanese Royal Delegation, Government and citizens.
Through these seminars, Japan showed good relations between the two countries, said President Sang. Both sides showed strong determine in developing cooperation expressed through a joint declaration signed by President Sang and Prime Minister Shinzo Abe on March 18.
On the same day, President Sang, his wife visited the Vietnam Embassy in Japan. During the visit, they spoke with staff and representatives of Vietnamese community in Japan.
President Sang reported results during a state visit to Japan, especially Vietnam and Japan decided to upgrade their ties to a new level of Extensive Strategic Partnership for peace and prosperity in Asia.
President Sang also expressed his desire Vietnamese Embassy and community in Japan to implement agreements as soon as possible declared by the two leaders. These cooperation agreements will be carried out based on two countries' benefit in accordance with the international law and general rule.
President Sang hoped that Vietnamese community in Japan remains patriotic to Vietnam because they will continue to contribute to build and develop good relations with Japan.
After arriving to Osaka, President Sang and his delegation attended a meeting with the business federation and leaders of large business corporations in Kansai region.
The President and leaders of Vietnamese ministries exchange ideas answering questions for attracting investment policies in Vietnam.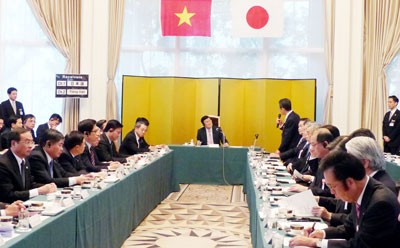 President Truong Tan Sang participates in a talk with the leaders of leading business corporations of Kansai. (Photo: SGGP)
Participation of answer questions was attended by leading economic groups of Kansai, including Osaka, Kyoto, Sankai and Kobe.
President Sang suggested Kansai enterprises to strengthen cooperation in six sectors, including environment, energy conservation, electronic, agricultural machinery, and ship building.
President Sang affirmed that Vietnam will create favorable conditions for Japanese investors in Vietnam market.
On the same day, President Sang participated business forums, meetings with Vice Governor of Kyoto, Osaka, Hyogo, leaders of Japan-Vietnam Friendly Association from Kansai, Osaka, Kyoto, Kobe and Sakai, and attended a cooperation ceremony between Kyoto and Hue.
Before returning to Hanoi, President Sang will visit and talk with staffs of Vietnam Consulate General, community and students in Osaka city to end officially a state visit to Japan.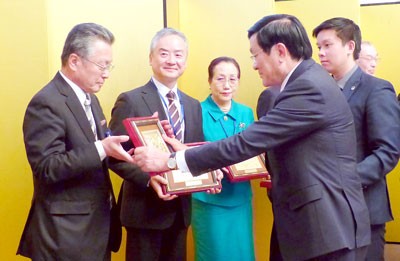 President Truong Tan Sang gifts souvenir to Japanese friends in Japan- Vietnam friendly organizations in Kansai region. (Photo: SGGP)