A formal welcoming ceremony for President Truong Tan Sang, his wife and his delegation was held at the Japanese Royal Palace in the Tokyo after their visit to Japan on March 17.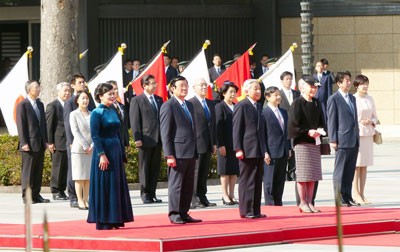 A solemn welcoming ceremony to President Truong Tan Sang, his wife and high- level delegation (Photo:SGGP)
Emperor Akihito, Empress Michiko, members of Japanese royal family, cabinet and representatives and Vietnamese people in Japan attended the event.
President Sang thanked the Emperor, Empress and Royal family on behalf of the State and Vietnamese people, for friendly relations.
The Emperor and Empress also gave thanks for good emotions actively supports Vietnamese leaders and people in Japan, especially after the tragic events involving the earthquake and tsunami in 2011.
 
President Sang praised Japan as a beautiful, talented, creative, and hardworking country during the meeting.
President Sang emphasized that Vietnam will continue to create positive conditions for relations between countries and hopes that it will develop further for the benefit of both peoples.
President Sang and the Emperor shared successes for events marking the 40th anniversary of the Vietnam-Japan diplomatic relations in 2013.
The President, on behalf of the State and Vietnamese people, invited the Emperor, Empress and members of Japanese Royal family to visit Vietnam in the upcoming day.
President Sang also attended an additional meeting with Vice President of Japanese business Federation Keidanren Sakane and a seminar on policies with leaders of Japan's largest corporations.
President Sang judged that Japan Business Federation has played important role in strengthening and promoting economic relations, commerce and investment between the two countries.
The President considered the seminar as one of the most favorable opportunities and aims to apply the latest information to orient Vietnam's economic development for Japanese standards. The seminar is also an opportunity to exchange relations with Japanese and Vietnamese delegates.
President Sang also attended a meeting with Chairman of Japan External Trade Organization (JETRO) Hiroyuki Ishige.
At the meeting, the President expressed pleasure because Vietnam has attracted 70 percents of Japanese enterprises to expand their market into Vietnam, according to JETRO.
President Sang appreciated the individual contributions of Ishige and JETRO for promoting investment and trade between the two countries. These contributions provided information and support for small and medium-scale Japanese enterprises in Vietnam and improved investment sentiments in Vietnam.
The numbers of Japanese investors into Vietnam market will continue to increase, said President Sang.
Chairman of JETRO said that Japanese companies are interested in investment and business in Vietnam market. He also affirmed that JETRO will be bridging to connect between the Japanese enterprises with Vietnam market.
Both countries hoped that the foreign trade turnover of two countries will reach US$50 billion and Japanese investment in Vietnam market will reach US$35 billion by 2020.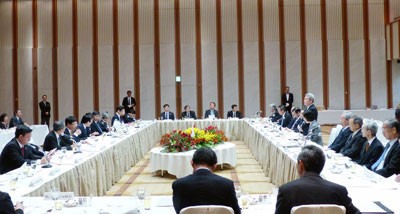 President Truong Tan Sang meets Japanese large business corporations (Photo:SGGP)
On the same day, President Sang also attended in a meeting with General Director of Sumitomo Corporation Nakamura. President appreciated great contributions of Nakamura as Deputy Chairman of Mobilizing Board for projects in Vietnam on the 40th Friendship Years of Japan-Vietnam relations such as Thang Long Industrial Park, Phu My 2 Industrial Zone, and railway systems in Hanoi, Ho Chi Minh City.
Sumitomo Company sponsored more than two thousands of scholarships to Vietnamese students since 1996.
President Truong Tan Sang hopes Sumitomo Company will continue to support investment of Japanese enterprises and social activities in Vietnam.
The company will carry out large projects in Vietnam involving infrastructure and electric power in the upcoming day.