Dr. Nguyen Huu Ninh, PhD, 54, was honored to have his name brought up in association with the Nobel Peace Prize 2007 on Monday in Oslo, Norway for his contribution to the Intergovernmental Panel on Climate Change (IPCC), a 2007 Nobel Peace Prize laureate.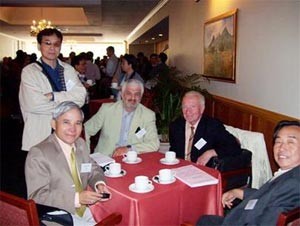 Dr. Nguyen Huu Ninh (1st, L) and the authors of IPCC Fourth Assessment Report: Climate Change 2007
Dr. Ninh, Chairman of the Center for Environment Research, Education and Development (CERED) was one of 2,000 renowned scientists who wrote the 3,000-page "IPCC Fourth Assessment Report: Climate Change 2007" which received one of this year's Nobel Peace Prizes.

Dr. Ninh, who has more than 20 years experience in the field, was one of the ten "Lead Authors" of the report's tenth chapter on "Asia".

"The Nobel Peace Prize is not only a great honor for me but also for everyone who has made efforts to combat global climate change", said Dr. Ninh.

Concerning climate change and Viet Nam, Ninh said the average temperatures in Viet Nam are expected to rise 1.5 degrees over 2010-2020, especially in the northern mountainous provinces, and the number of floods should increase by some 20 percent.

The main reason leading to recent record high tides in Ho Chi Minh City, said Ninh, is global warming and rising sea levels.

The PhD warned that the northern city of Hai Phong and the southern economic hub Ho Chi Minh City have just been listed as two of the ten cities mostly likely to be impacted by climate change over the next 20 to 50 years.

Dr. Ninh is also the only Vietnamese author to write 24 pages for the United Nation Development Program's Human Development Report recently released in Ha Noi.