A French science institute recently bestowed an Honorary Doctorate to Professor Hoang Tuy, a prominent Vietnamese mathematician while a Kovalevskaia Award yesterday went to Nguyen Ngoc Tram, PhD, for her creation of a herbal medicine treating prostate and uterine cancers.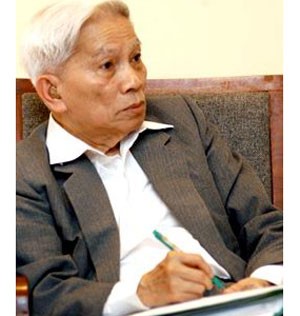 Prof. Hoang Tuy

Professor Hoang Tuy is now the first Vietnamese awarded the title of Honorary Doctor by the Conference Nonconvex Programming 2007 (Conference NCP07), jointly organized by the National Institute for Applied Sciences in Rouen, France, and the University of Florida.

Conference NCP07, which celebrated 25 years of achievements in mathematics, paid a tribute to Dr. Hoang Tuy on his 80th birthday in recognition of his pioneering achievements in "Global Optimization".

Dr. Hoang Tuy, born December 17, 1927, is an applied mathematician who was awarded his PhD in mathematics by the Moscow University in 1959. He has mainly worked in the field of Global Optimization ever since and was Director of the Institute of Mathematics of the Vietnam Academy of Science and Technology from 1980 to 1989. He is also author of more than 160 journals and conference presentations.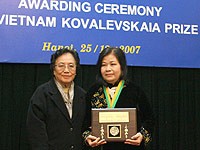 PhD Nguyen Ngoc Tram at the award ceremony (Photo: Nhan Dan Online)
Meanwhile, yesterday in Ha Noi, a 2007 Kovalevskaia Award was bestowed upon Nguyen Ngoc Tram, PhD, Director of the CRILA Pharmaceutical Research, Development and Production Center.
The Kovalevskaia Award Committee said Dr. Tram is a scientist who has carried out a number of important studies in pharmaceutical field, most notably, producing Crila, a herbal medicine extracted from Crila Latifolium, a domestic wild herb commonly known as the "medicine of the King's palace" or the "royal woman's herb".

According to Tram, Crila is the result of dozens of years of her research.

This year's Kovalevskaia group award went to professors of the General Physics Faculty of the Hanoi University of Natural Sciences for their research into the optical priorities of semi-conducting materials and dielectrics.

The Kovalevskaia Awards are named after Sophia Vacilievna Kovalevskaia, the most outstanding Russian female mathematician of the 19th Century, who was first to gain the Degree of Doctor and the title of Professor of Mathematics. The awards are offered every year to a Vietnamese woman and women's group to honor their achievements in scientific research.