The Vietnam Food Administration under the Ministry of Health yesterday announced that the arsenic content of the 247 samples of traditional and industrial fish sauce taken from producers in Hanoi, Ho Chi Minh City, and the south-central provinces is within  the safe range ruled by the ministry.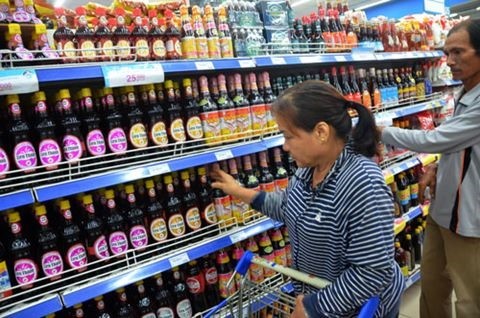 All fish sauces on the market are safe for human consumption, the Ministry of Health confirmed Saturday after a10-day inspection ( Photo: VNA)
The annoucement was issued following Prime Minister Nguyen Xuan Phuc's direction on October 22 that competent ministries should make official announcements on the quality of fish sauce to allay public concerns and fish sauce associations' outrage.
Last week the Vietnam Standards and Consumers Association (Vinastas)'s information of arsenic level in Vietnamese traditional sauce fish sauce caused puzzlement among consumers harming the sector. However, the association equivocated between organic and inorganic. Organic arsenic is found in fish, seawater and seaweed, and any fish sauce traditionally made through the fermentation of fish with sea salt will contain the chemical yet it is safe for consumption.
Accordingly, for the first time, The Vietnam Association of Seafood Exporters and Producers (VASEP) and several fish sauce associations and businesses gathered for a meeting on Thursday and unanimously agreed to lodge a complaint to Prime Minister Nguyen Xuan Phuc, the ministries of Agriculture and Rural Development, Health, Industry and Trade, Public Security, and Information and Communications calling on for an investigation on the issue and aiding traditional fish sauce makers affected by the misleading information.
In its complaint to the PM, associations proposed assessing losses caused by Vinatas' information on Vietnamese traditional fish sauce and issue proper penalties to deter it from issuing same information.
Minister of Public Security To Lam has also affirmed that the ministry will issue proper criminal and administrative punishment if it finds out possible wrongdoings regarding a recent survey that allegedly serves to help a manufacturer secure market advantages by publishing misleading findings about the condiment's arsenic content.