Tien Phong Newspaper journalist Hoang Quoc Dung has won the 2008 Reuters-IUCN Media Awards for Excellence in Environmental Reporting for his story "Trans-border Wildlife Trade Network Unmasked".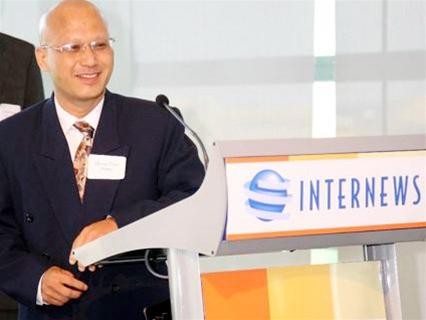 Mr. Hoang Quoc Dung at the Internews award ceremony in Washington DC, on June 5, 2008.  
Mr. Dung is also the vice chairman and general secretary of the Vietnam Forum of Environmental Journalists.
He is the first Vietnamese journalist to win a global environmental media award. His wining article was published in four editions in Tien Phong Newspaper. 

Along with Mr. Dung, who is the Asian regional winner, are five other winners who represent other regions. The regional winners were selected from some 350 print entries from all five continents.
The six regional winners will be invited to a global conference on sustainable development, which will be held on Oct 7 in Spain.
At this event, a global winner will be announced. The global winner will receive the prize of US$5,000.

All the six regional winners will receive a trophy from Reuters-IUCN in recognition of their excellence in environmental journalism. 

On June 5, 2008, Dung won the Internews Media Leadership Awards on environmental media from the Internews Network, an international media development organization based in California.