Nearly 60 Vietnamese civilians in Lebanon were evacuated to Tartus in Syria by automobiles on August 2, 2006 to return home by plane.

They are in the list of the Vietnamese workers who had registered to the International Organization for Migration (IOM) for repatriation in the first stage.
Earlier, Lebanon's Foreign Ministry promised to help those who lacked any necessary document with the registration to IOM. Lebanon also pledged to help Vietnamese workers repatriate as soon as possible. The second repatriation stage is scheduled to be 3 – 4 days after the first.
Viet Nam Condemns Israel's Attack on Qana, Lebanon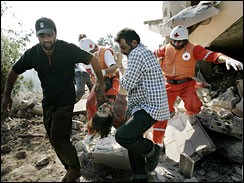 Red Cross paramedics carry the body of a Lebanese woman recovered from the rubble of a demolished building that was struck by Israeli missiles at the village of Qana. (Photo: www.cbsnews.com)
"Viet Nam condemns Israeli air strike on Qana Village in south Lebanon on July 30, 2006, which led to the loss of innocent civilians, most of whom were women and children. Viet Nam calls on the relevant parties to immediately cease fire and to show restraint, avoiding the loss for civilians," said Foreign Minister Spokesman Le Dzung on August 1, responding to correspondents' questions about Viet Nam's reaction to the Israeli attack on Qana Village in south Lebanon.
On the same day, chairman of the Viet Nam's Women Union Ha Thi Khiet delivered an open letter, strongly protesting against the war in the Middle East.
"The Viet Nam's Women Union worries about the war and the escalation of violation in the Middle East, which caused terrible loss of innocent victims, notably women and children, in Lebanon and Palestine. The Union strongly protests against the aggressive war and military attacks threatening sovereignty of countries and condemns terrorist forces causing instability in the Middle East," she wrote.