A repair shop for tanks and armoured vehicles, constructed with funding from Vietnam's Ministry of Defence, was inaugurated and commissioned in Battambong province, Cambodia on February 27.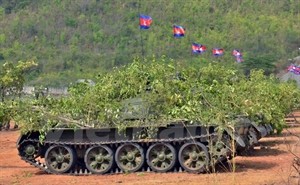 A tank of the Royal Cambodia Army (Photo: VNA)
Speaking at the launching ceremony, Commander of the Cambodian Royal Army General Meas Sopheas hailed the effective assistance of the Vietnamese ministry for its Cambodian counterpart across sectors, enabling Cambodia's army to meet the defence and security demands of the country.
The inauguration of the workshop is expected to support the Cambodian army in maintaining, repairing and upgrading equipment and military weapons, ultimately contributing to improving its capacity, said Meas Sopheas.
The shop's construction required US$ 80,000, sourced from US$ 2.4-million aid package for basic construction funded by the Vietnamese Ministry of Defence as part of the cooperation protocol between the two ministries in 2014.
Colonel Nguyen Anh Dung, Vietnamese defence attaché to Cambodia, said the Vietnamese ministry plans to increase basic construction assistance for its Cambodian counterpart to US$ 3 million in 2015.
Last year, Vietnam provided US$ 21 million to Cambodia in defence aid, Dung noted.