This month's consumer price index in Vietnam reduced to 16.44% from 17.27% last month, the General Statistics Office said Friday in its monthly report.
The index in February rose 1.37% from January, and January's rate increased just 1% from December, according to the GSO.
According to analysts, this year's Lunar New Year Festival came at the end of January and that was why the prices of many essential products and services still stayed high early February.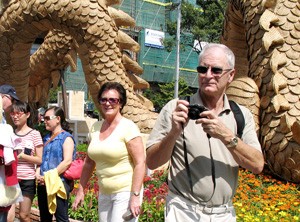 Foreign tourists visit Nguyen Hue Flower Street in Ho Chi Minh City during the 2012 Tet late January. Tet (Lunar New Year) is Vietnam's biggest festival, and prices are higher during the time. (Photo: Tuong Thuy)
In addition to the price surge, higher prices of electricity, cooking gas and water were another factor to the monthly CPI rise.
This month's electricity tariffs increased 2.04% from January. Meanwhile, the average hike cooking gas prices is 9.53%.
On the contrary, the price index in the group of post and telecoms services reduced 0.16% from January.
Vietnamese Prime Minister Nguyen Tan Dung has said the government's top priority this year is to curb inflation, looking to a single-digit rate.