Vietnamese people living at home and abroad always single-mindedly protect the country's sacred and inviolable sovereignty over its sea and islands, mobilizing any strength to overcome all emerging challenges.
This message was heard loud and clear at a meeting held in the northern city of Hai Phong on June 7, in response to World Oceans Day, which falls on June 8, and the national Sea and Islands Week.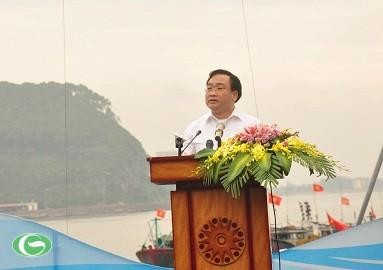 Vice PM Hoang Trung Hai at the meeting
Speaking at the event, Deputy Prime Minister Hoang Trung Hai said that guidelines will be issued as priority enforcing the Law of the Sea of Vietnam and implementing a strategy on exploiting and using natural resources, as well as protecting sea environment in a sustainable manner.
Efforts in intensifying the presence and operation of Vietnamese law enforcement forces in the country's sea and islands will be kept, Hai added.
Meanwhile, ministries, agencies and localities were urged to actively study and propose solutions to cope with climate change and the rising sea level.
He also condemned China's illegal and brazen act of placing and operating its Haiyang Shiyou - 981 oil rig in Vietnam's waters, causing instability and tensions in the East Sea.
He added that the act taken by China seriously infringes upon not only Vietnam's sovereignty over its sea and islands, but also international law and norms, including the 1982 United Nations Convention on the Law of the Sea (UNCLOS 1982) and the Declaration on the Conduct of Parties in the East Sea (DOC), to which China is a signatory.
The official called on individuals, organizations and peace-loving countries around the world to continue backing Vietnam's cause of protecting its sacred sea and island sovereignty in accordance with international law.
At the event, more than 10 billion VND (470,000 USD) donated by local units, organizations and people were handed over to the ministry, aiming to support the protection of the national sea and island sovereignty and partly help Vietnamese fishermen maintain voyages and cling to traditional fishing grounds.
On the occasion, a vast number of activities for environmental preservation were organized throughout the country.