Delegates to the 13th Shangri La Dialogue have welcomed Vietnam's stance on settling the East Sea issue by peaceful means in line with international law, said Defence Minister, General Phung Quang Thanh.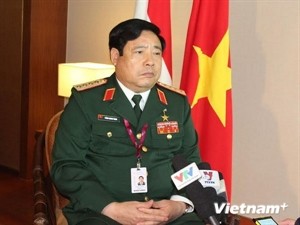 Defence Minister, General Phung Quang Thanh (Photo: VNA)
He told a Singapore-based Vietnam News Agency reporter in an exclusive interview that Vietnam presented an accurate and objective account of the latest developments in the East Sea, one of the concerns dominating the agenda.
Vietnam has made clear its consistent policy of exercising the utmost restraint and abiding by the 1982 United Nations Convention on the Law of the Sea (UNCLOS) and the Declaration on the Conduct of Parties in the East Sea (DOC), rather than using force or threat to use force, he said.
According to General Thanh, a majority of countries expressed hope for peace and stability in the East Sea as it is a key international navigation route, exerting a big influence on economies in and outside the region. To this end, they called on ASEAN and China to work out a legally-binding Code on Conduct in the East Sea (COC) as soon as possible.
Asked about the meaning of the dialogue, General Thanh said it is a platform for participants to share their viewpoints and seek possible ways of cooperation, especially in defence.
They also exchanged views on hot issues arising from North Africa, the Middle East, Ukraine, Korean peninsula, East Sea and East China Sea.
The US's rebalance strategy in Asia also drew mixed opinions, he said.
Hosted by the International Institute for Strategic Studies (IISS), the annual dialogue ran between May 30 and June 1 with Prime Ministers, defence chiefs and researchers in attendance.