The military-run telecommunications group Viettel aims to become one of the world's top 10 telecom companies by 2020 with a presence in 30-35 countries, the firm's executives told Prime Minister Nguyen Tan Dung at a working session on March 11.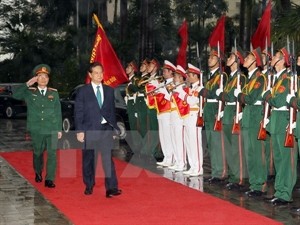 Viettel executives welcomed PM Nguyen Tan Dung (Photo: VNA)
Viettel currently has the second largest revenue among nearly 500,000 businesses in Vietnam with VND197 trillion (US$9.38 billion) in 2014, a 20 percent annual increase. The earnings accounted for more than 10 percent of State-owned enterprises' total figure.
Last year, it posted a pre-tax profit of VND42 trillion (US$2 billion), an annual rise of 15 percent and representing 23 percent of the profit made by firms owned by the State.
Its tax payments exceeded VND15 trillion (US$714.28 million), climbing 10 percent from the previous year and boosting Viettel to be the largest tax contributor in Vietnam.
The group is now employing roughly 90,000 people, including 75,000 in Vietnam and 15,000 abroad.
It has thus far invested in nine countries, namely Laos, Cambodia, Timor-Leste, Haiti, Peru, Mozambique, Cameroon, Tanzania, and Burundi. Viettel's overseas revenue grew 25 percent to US$1.2 billion in 2014 with a pre-tax profit of US$156 million, up 32 percent.
The firm owns three telecom equipment and electronic device research institutes, two software companies, and two factories.
At the working session, Viettel executives highlighted their resolve to see surges of 20 percent in revenue and 15 percent in profit this year.
In addition to telecommunications and overseas investments, it is developing high-tech device research and production activities, the firm's leaders said.
Speaking highly of the accomplishments, PM Nguyen Tan Dung asked Viettel to maintain its impressive progress and step up science-technology research and application to elevate the company to a leading group in the region.