Food hygiene and safety issues have once again alarmed officials, after over 52,000 businesses did not meet food hygiene and safety standards in just one month. Only half of violators were penalized.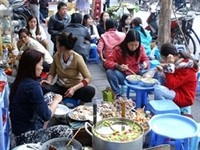 Street food is popular in Hanoi. (Filed photo)
The Food Hygiene and Safety Department under the Ministry of Health reported the results of the 2010 Action Month for Food Hygiene and Safety implementation at a July 27 press conference.
According to Nguyen Thanh Phong, deputy chairman of the department, the number of violations of food hygiene and safety are increasing.
Last month, inspectors checked 210,062 enterprises, mainly food processing and packing plants that trade milk, confectionary and bottled beverages and kitchens within industrial zones.
52,009 of 210,062 were did not meet requirements; 31,000 businesses were found in violation of food and safety standards in the Action Month for Food Hygiene and Safety last year.
Eleven central inspection delegations worked in 33 provinces and cities, uncovering most violations (67.11 percent), while 25 percent of violations were uncovered by local inspection teams.
Although the number of violations is at high level, punishments for food safety violations are still limited, especially at localities throughout the country.
At the press conference, the department also reported that the number of food poisoning victims continued to increase.
To date, there have been 88 food poisoning cases nationwide so far this year, causing 32 casualties and affecting 2,929 people, an increase of 8.9 percent compared to the same period last year, the department said.