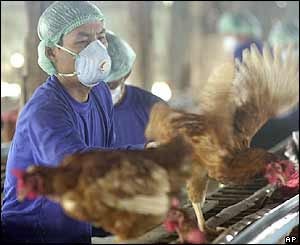 Chickens are vaccinated in Lang Son
As recent bird flu outbreaks have occurred in neighboring Thailand, Laos, Viet Nam is taking extra precautionary measures to seize smuggled poultry and test samples in vulnerable areas.
One of the 30 samples of chickens smuggled to northern border province of Lang Son was tested positive for the H5N1 virus, said Lang Son authorities Friday.
Meanwhile, 60 test samples of chickens at the local market all tested negative for the deadly bird flu virus.
As many as 70,000 kg of chicken and over 180,000 eggs smuggled across the border have been recently culled by regional authorities.
Over 1.2 out of 3.5 million poultries have been vaccinated in Lang Son province, the bordering region with China. The same amount of animals along the border and farms will receive the vaccine in the near future.
Veterinary officials say that up to 1,000 liters of chemical substance and 500 kg of chemical powder are ready to cope with the possible bird flu outbreak.
Across the land, veterinary departments of the central provinces of Da Nang, Thua Thien Hue, Quang Nam, Quang Ngai and Binh Dinh are all preparing proactive measures to fight against the virus in case of an outbreak.
In addition, Quang Ngai's animal health workers will largely control the spread of the virus by launching a mass vaccination campaign in poultry and cattle early September.
Up to 2.3 million doses of vaccine are ready for the avian flu prevention campaign scheduled for September in Binh Dinh province.
All the remaining central provinces of Da Nang, Quang Nam and Thua Thien Hue also have plans for the vaccination before the stormy season.