Viet Nam and Singapore had built up good terms on national defence co-operation based on special relationship, President Truong Tan Sang said at a reception for Singapore guests led by Defence Minister Ng Eng Heng in Ha Noi yesterday.
Mr. Sang also spoke highly of Singapore's "connection role" within the ASEAN community.
He acknowledged the co-operative outcomes of the two nations' armies and said he believed bilateral ties would be cemented.
Heng congratulated President Sang for being elected as President. He said that with traditional neighbourliness ties, relations between the two countries would grow.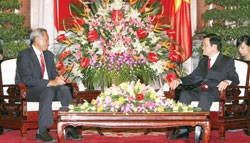 President Truong Tan Sang (right) meets with Singapore Defence Minister Ng Eng Heng
In terms of national defence, Viet Nam and Singapore had carried out lots of exchange activities since 2009, including those among army officers, thus sharing experiences in developing armed forces and navy services, he said.
Heng also said Viet Nam had been chosen by many Singapore investors, while Singapore had welcomed more Vietnamese students to studying.
Also yesterday, Heng and a high-level Singapore military delegation were received by Vietnamese National Defence Minister General Phung Quang Thanh.
During their talks, the two sides expressed their views on security in the region and the world and briefed each other on each country's socio-economic development, national defence policies and experience in building up armed forces.
The two ministers agreed on co-operation in forthcoming delegation exchanges, training, military engineering aid, intelligence information sharing, and experience in dealing with non-traditional security challenges