The Vietnam News Agency (VNA) and Prensa Latina (PL), the official state news agency of Cuba, should intensify their relationship in accordance with the time-honoured solidarity and friendship between the two countries, Prime Minister Nguyễn Xuân Phúc said yesterday.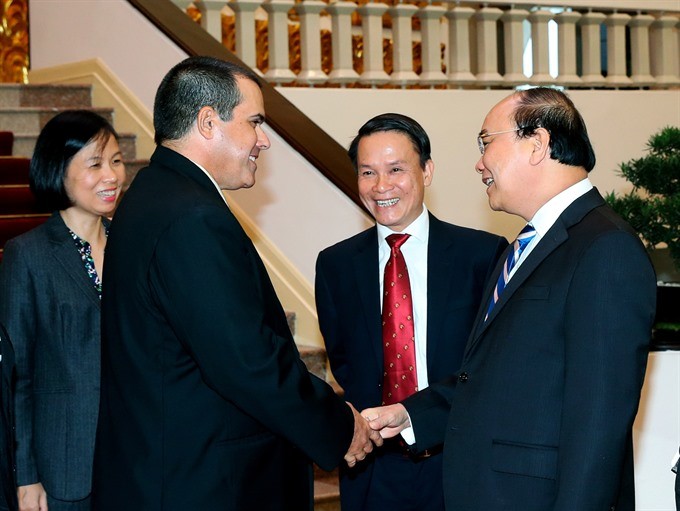 Prime Minister Nguyễn Xuân Phúc (right) and Vietnam News Agency General Director Nguyễn Đức Lợi (central) receive Luis Enrique Gonzalez Acosta, President of Prensa Latina, the official state news agency of Cuba, yesterday in Hà Nội. (Photo: VNA/VNS)
He made the remarks while meeting with PL President Luis Enrique Gonzalez Acosta at Government headquarters in Hà Nội yesterday.
He reiterated that the Party and State of Việt Nam continue to treasure its co-operation and special amity with Cuba and are glad about its new socio-economic achievements. Việt Nam hopes that Cuba would harvest even greater accomplishments in the future.
The PM noted that VNA and PL have had effective professional co-operation, contributing to their struggles for independence in the past and the current national development in their respective nations.
He asked both sides to continue co-operation and discuss ways to meet the growing demand for news reporting, especially news on their countries' situation.
The Vietnamese Government and people always want the two countries' relations to be expanded in all aspects, including the co-operation between the news agencies, PM Phúc said.
Việt Nam vows to assist the Caribbean nation in all spheres and will do its utmost to be a companion of Cuba during the latter's development, he added.
For his part, the PL President affirmed that Cuba attaches importance to fostering the PL – VNA ties to match with the two countries' special relationships and friendship.
He thanked the Vietnamese Government and VNA's assistance to his agency's activities. The Cuban people consider every attainment of Việt Nam as their own, Acosta said, voicing his belief that the Southeast Asian nation will continue to reap more achievements and promote its standing in the world.
Also yesterday, the PL delegation had talks with its VNA counterpart, led by VNA General Director Nguyễn Đức Lợi, who welcomed the third working visit to Việt Nam by Acosta and noted that their news agencies have long been colleagues and friends.
The two sides expressed pleasure at their co-operation and information exchange over the past years which have helped them precisely and objectively update news about their respective countries' situation for media outlets.
They agreed that VNA would boost providing multimedia news, particularly video clips, for PL in the time ahead.
They also pledged to give the best possible assistance to their representative offices and correspondents in each other's countries.