Vietnam has consistently implemented its foreign policy of independence, self-reliance and openness, including attachment of importance to developing friendship and multifaceted cooperation with Paraguay, said State President Nguyen Minh Triet.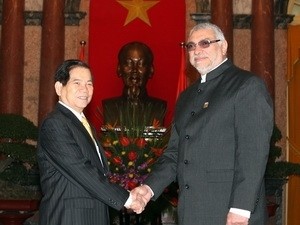 President Nguyen Minh Triet (L) receives Paraguayan President Fernando Lugo Mendez in Ha Noi on March 9.
President Triet made his remark during his talks with Paraguayan President Fernando Lugo Mendez in Hanoi on March 9, that took place right after the official welcoming ceremony.
President Triet welcomed the first-ever visit to Vietnam by the Paraguayan President, describing it as a milestone to bring the two countries' friendship and cooperation to a new stage of development.
President Fernando Lugo Mendez expressed his admiration for the late President Ho Chi Minh and the history of struggle for national independence and reunification in the past as well as achievements on all aspects recorded by the Vietnamese people over the past 25 years of the doi moi (renewal) process.
He said he believed with increasing international prestige and position, Vietnam will continue to make contributions to peace, stability, cooperation and development in the region and the world at large.
The two presidents shared views on development in bilateral politics and diplomatic relations. However, they said bilateral economic and trade cooperation is modest and does not match its potential.
They agreed on the need to increase the exchange of delegations to promote mutual understanding and define areas and ways of cooperation, immediately focusing on the two countries' strengths, such as rice production, aquaculture, husbandry, farm produce processing, hydro-electricity, mining and telecommunications.
The two leaders saw the need to encourage and facilitate both countries' businesses to increase their contacts and set up business ties, contributing to raise bilateral trade value and serving as a link for goods and services to penetrate into wider regional markets.
Both also agreed to accelerate the establishment of a legal framework for the two countries' ties, highly valued the signing of a memorandum of understanding on establishing a mechanism for coordination and consultation between the two foreign ministries.
They discussed international and regional issues of common concern, saying they agreed to continue increasing coordination and mutual support at international organizations and multilateral forums and join hands to promote cooperation between the Association of Southeast Asian Nations (ASEAN) and the group of South American Common Market (MERCSUR).
President Fernando Lugo Mendez took this opportunity to invite President Triet to visit Paraguay on the occasion of the 200th anniversary of Independence Day of Paraguay (May 14).
President Triet accepted the invitation with pleasure and the visit will be arranged through the diplomatic channel.
Also the same day, Deputy Prime Minister and Foreign Minister Pham Gia Khiem and Paraguayan Foreign Minister Hector Ricardo Lacognata signed an MoU on establishment of a mechanism for coordination and consultation between the two ministries.
Later in the day, President Triet gave a banquet in honor of President Fernando Lugo Mendez and his entourage.