Nguyen Thanh Hoa, Deputy Minister of Labor, War Invalids and Social Affairs has affirmed financial assistance to Vietnamese workers who were forced to evacuate Libya before the expiry date of their contracts.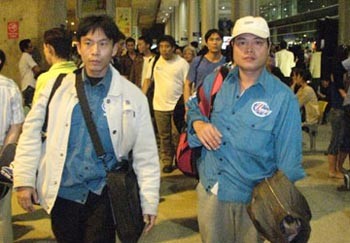 Vietnamese workers returning from Libya early this year (Photo: Phapluat)
Accordingly, all Vietnamese workers returning before expiry of due date will receive VND1 million each as compensation. Additionally, those having worked in Libya for one month or less will receive an extra VND8 million each, and those having worked between one to two months will receive VND6 million each.
Those having completed 2-4 months and 4-6 months will be given VND4 million and VND2 million respectively.
In addition, people working on Government projects will get an additional 50 percent of the above amount.
Businesses licensed for recruiting workers for Libya will be compensated with 50 percent of the intermediary fee that they had to refund to the evacuated labor force.
More than 10,000 Vietnamese workers evacuated Libya before expiry period of their contracts due to the political turmoil in Libya early this year.