Vietnam deeply sympathises with Japan over losses caused by the recent earthquake and tsunami and offers assistance to the country, a foreign ministry spokesperson said.
"Vietnam shares with Japan and the Japanese people the agonies and losses they are suffering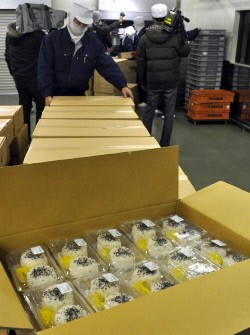 food factory employee packs rice-balls into the boxes as relief for quake survivors in Akita city on March 15, 2011. (Photo: AFP)
from the earthquake and tsunami," spokesperson Nguyen Phuong Nga said on March 14 in reply to a reporter's query on Vietnam 's reaction to disasters that hit Japan on March 11.
She said she believes that with its will and determination, Japan will avert difficulties and soon overcome catastrophic consequences to continue to grow.
" Vietnam is ready to help and assist Japan in its capacity," Nga noted.
She said the Vietnamese Government decided to provide Japan with US$ 200,000 in emergency aid and would send a medical team to Japan if requested by the Japanese government.
"We are working with the Japanese side on what it needs so we can supply them promptly," Nga concluded.
The earthquake measuring 9.0 on the Richter scale rocked northeastern Japan on March 11, and along with a devastating tsunami, claimed almost 1,900 lives and left 20,000 missing, according to the latest reports released on March 14.