The Vietnamese Government has decided to provide US$30,000 in emergency aid to Sri Lanka to help it address the current humanitarian crisis that is affecting civilians who have left the war zone in the South Asian country.
Vietnam's Foreign Ministry spokesman Le Dung said this during a press conference in Hanoi May 21 regarding Sri Lanka's completion of its military campaign against the Liberation Tigers of Tamil Eelam, or the Tamil Tigers.
He added that Vietnam congratulated Sri Lanka's Government and people for their victory.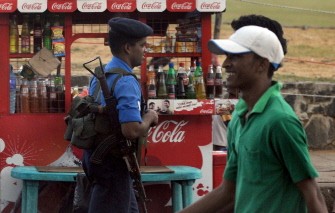 A Sri Lankan soldier patrols in Colombo on May 21, 2009. Sri Lanka celebrated victory over the Tamil Tigers with a national holiday on May 20 (AFP photo)