Vietnamese investment in Laos had not been affected by the global credit crunch, heard a conference organised by Vietnam 's Ministry of Planning and Investment and the Vietnamese Investors' Association in Laos on Feb. 10.


The total registered investment by Vietnamese enterprises in Laos reached 480 million USD last year, surpassing the 2010 figure.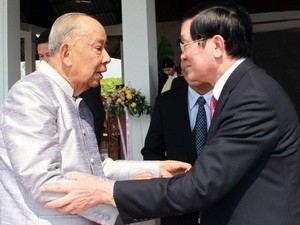 President Sang (R) meets former Lao Party leader and State President Khamtay Siphandone (Source:VNA)
Vietnamese enterprises have poured more than 3.4 billion USD into the projects so far, most of which are located in central and southern Laos .
Addressing the conference held in Laos ' southwestern province of Champasak , President Truong Tan Sang said Vietnam 's investment needed to help the local development and social security.
He thanked the Lao Government for creating favourable conditions for Vietnamese enterprises to effectively invest in their country.
The President then attended the inauguration ceremony of the rubber latex factory invested by the Vietnam Rubber Industry Group. The factory, with a total capacity of 24,000 tonnes of rubber latex per year, will create 3,000 jobs in Champasak province.
Also in Champasak on Feb. 10, the second stop of Sang's three-day official visit to the neighbouring country, the President met former Lao Party leader and State President Khamtay Siphandone and held talks with the provincial head Sonsay Siphandone.
Sang also joined the opening ceremony of the Paksong broadcast station, which was built with official development assistance (ODA) from the Vietnamese Government./.