Viet Nam always tries to facilitate the progress of science and technology, and this is the shortest and fastest road to help the country develop, the State President said during his meeting with local and international scientists on Monday.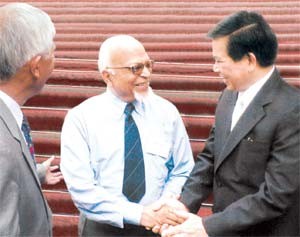 President Nguyen Minh Triet (R) welcomes scientists to the 'Viet Nam 2006' symposium on August 7. (Photo: SGGP)
President Nguyen Minh Triet, at a reception for more than 200 foreign scientists attending an international symposium on elementary physics and astronomy in Ha Noi on Monday, affirmed the Vietnamese Government's commitment to creating favorable conditions for scientists' activities.
He said the Vietnamese Government calls for scientists of Vietnamese origin to help their fatherland, and the Government always seeks to facilitate Vietnamese scientists' activities in the country and abroad.
President Triet expressed his delight in seeing international scientists at the symposium. He added he expected the conference to be helpful to Vietnamese scientists, especially in developing nanotechnology.
Two Nobel Laureates, Pro. James Cronin from the US and Prof. Klaus Von Klitzing from Germany, attended the symposium.
At the reception with the Vietnamese President, Prof. Cronin said Viet Nam is holding lots of potentials to develop science and technology, and is developing fast. He said Viet Nam should make more efforts to attract scientists of Vietnamese origin in the US.
He added Viet Nam should issue specific policies, especially in finance, to effectively utilize young scientists.
The international symposium on particle astrophysics and nanophysics, known as "Vietnam 2006" (6th Rencontres du Vietnam), attracts both international scientists and almost 100 Vietnamese peers, including around 70 young scientists.
The organizers are the France-based scientific organization Rencontres du Vietnam, whose president is overseas Vietnamese Prof. Tran Thanh Van, the Science and Technology Institute of Viet Nam and the Viet Nam Physics Association.