Fighting against corruption and raising the effectiveness of official development assistance (ODA) supplied by international donors are among Viet Nam's top priorities at present, the Prime Minister has reiterated.
PM Nguyen Tan Dung said this on Thursday during open dialogs with international donors at the Consultative Group Meeting for Viet Nam, held in Ha Noi on Thursday and Friday.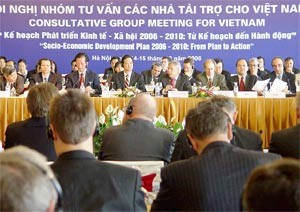 Vietnamese leaders and international donors have dialogs on Thursday in Ha Noi (Photo: SGGP)
More than 20 ambassadors and representatives of international organizations mentioned four major problems in carrying out Viet Nam's 2006-10 socio-economic development plan: ODA effectiveness, growth and economic reforms, administrative reforms, and poverty reduction.
PM Dung, speaking about fighting against corruption, said the National Assembly has issued the anti-corruption law and the Government has set up the anti-corruption committee, whose chief is the PM.
"As the chief of the anti-corruption committee, I reiterate that the Vietnamese Government will crack down on corruption effectively."
Regarding the use of ODA, he said, "ODA of donors comes from your countries' people and is soft loans. Therefore, Viet Nam is responsible for using the capital effectively so that new Vietnamese generations in the next 30-40 years would not condemn the earlier generations for borrowing and using foreign capital ineffectively."
The PM added Viet Nam's Party and Government have responsibility for fighting corruption and have introduced many reforms to raise ODA effectiveness, such as issuing the laws on enterprises, investment, tenders, and construction.
He spelled out five measures to fight corruption: transparency will be increased, the public will observe ODA use more intensively, wrongdoers will be charged seriously, many anti-corruption forces will take action, and salaries will be lifted up.
Many international donors asked about a major corruption case at the bridge and road building agency PMU18. The Prime Minister said the case would be brought to light, and all wrongdoers and punishments would become known to all people.
EU Ambassador to Viet Nam Markus Cornaro, US Ambassador Michael Marine, Republic of Korea Ambassador Kim Eui Ki and other representatives raised questions about sustainable and economic reforms.
The Vietnamese PM answered that economic reforms "are Viet Nam's life or death matter."
Answering UNDP chief representative J. Hendra and World Bank chief economist M. Rama about administrative reforms and poverty reduction, the PM said Viet Nam attaches great importance to the matters. Laws have been improved in line with international practices, legal reforms have been conducted together with simplified administrative procedures for citizens' sake.
The Government leader also reiterated that Viet Nam always tried to ensure social equality for all people, make sure that development programs benefit all people, especially those in rural and remote areas. Priorities are given to poverty reduction efforts, health and education services for remote areas.
 
Related article
Gov't Vows to Remove Obstacles to Business