Vietnamese Prime Minister Nguyen Tan Dung yesterday requested cabinet members to prioritize controlling the current inflation which has jumped 19.39% from a year earlier besides calling on measures to prop up the ailing stock market.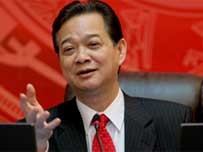 Prime Minister Nguyen Tan Dung
During a monthly cabinet meeting in Ha Noi, the government leader called on eight groups of measures to limit inflation to 9.19%, including tightening monetary policy, strengthening price management, saving public expenses, boosting exports, controlling trade surplus and providing continued support to the poor.
Although PM Dung assured that "inflation has shown signs of a slow-down", he admitted there are signs of slow economic growth due to a high rate of inflation, large trade deficit and the stock market plunge, which are threatening the economy and affecting production and citizens' life.
Last week Dung said the government's priority was to control inflation, "at least not to let it rise beyond last year's level" of 12.6%.
At the meeting, cabinet members pointed out existing shortcomings in land administration, state budget allocation and administrative management, resulting in poor macroeconomic regulation.
PM Dung asked relevant ministries and sectors to review investment projects in order to scrap ineffective ones and economize on public spending in an effort to reduce budget deficit.
In the meantime, the Southeast Asian nation is undergoing the highest rise in inflation rate in the past 12 years. Its Consumer Price Index (CPI) for the first three months this year increased 9.19%.
The country is also suffering from trade deficit which was estimated to widen to $7.36 billion in the first three months as against $1.93 billion in the corresponding period last year.
In other government statistics released yesterday, imports surged 62.5% in the first quarter, three times faster than export growth.
State to buy major stocks
To boost the bearish securities market whose benchmark VNIndex yesterday dropped to 496.64 points, PM Dung tasked the State Capital Investment Corporation with buying stocks from highly-capitalized firms.
He also assigned the State Bank of Viet Nam, the country's central bank, the task of instructing and encouraging commercial banks to buy US dollars and other foreign currencies to stabilize the financial market.
Meanwhile, the State Bank yesterday issued a report saying the inter-banking market is stabilizing thanks to recent effective monetary and interest policies.